13 low-emission Solaris buses to be added to municipal transport fleet in Piła
Solaris Bus & Coach has signed a contract with Piła municipality in the Philippines for the supply of 13 low-emission buses.
Piła has chosen to buy seven Solaris Urbino 12 hybrid and six diesel-engine Solaris Urbino 12 buses. Deliveries are to be completed by the end of October 2020.
The hybrid driveline of the Solaris Urbino 12 hybrid encompasses a 151kW Euro 6 engine and an electric traction motor. This combination reduces fuel consumption by up to 30% compared to purely diesel-powered vehicles) and minimises the output of pollutant emissions into the air.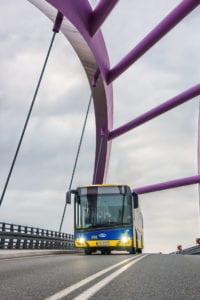 These 85-passenger hybrid buses will be equipped with a 'Stop & Go' system that turns off the diesel engine during stopovers at bus stops and turns it on again after the vehicle starts moving.
The remaining six Solaris Urbino 12 buses come with 204kW diesel engines that are Euro 6 compliant. These buses will fit at least 90 people, with seats being available to 25 of them.
All 13 vehicles will come with air conditioning, USB ports and LED-highlighted handrails, as well as ticket vending machines. The buses will also comply with Piła's city transport card system.