North American cities release vision for AV policy
The National Association of City Transportation Officials (NACTO) has released the second edition of its Blueprint for Autonomous Urbanism. 
The document focuses on the near-term policies and decisions that are necessary for autonomous technologies to improve transportation outcomes, rather than lead to an overall increase in driving, greenhouse gas emissions, and diminished public space in cities.
Developed with a steering committee from NACTO's 81 member cities and transit agencies, and based on the vision for city streets of the future in the first edition of the Blueprint, the second edition details the steps that will need to be taken to ensure an equitable, people-first city.
Janette Sadik-Khan, principal at Bloomberg Associates and NACTO chair, said: "When the automotive age swept the nation a century ago, cities responded not by adapting cars and trucks to the varied uses of the street, but with a relentless clearcutting of obstacles from curb to curb.
"As we anticipate the arrival of self-driving vehicles on city streets today, we have a historic opportunity to correct these mistakes, which starts with a new blueprint for cities."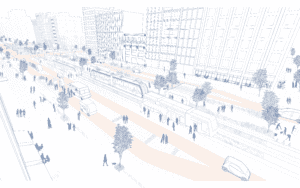 The second edition of Blueprint for Autonomous Urbanism also builds on the street designs envisioned in the first edition, outlining designs, policies, and tools to enable safe, frequent crossings, more sustainable and efficient use of the street, and a more vibrant pedestrian realm.
It also includes more detailed sections on the actions individual city departments – from IT to fleet services to parking authorities to employment and administrative services – should take to prepare as automated technology becomes more mature. Conventional and emerging areas of authority, across various levels of governments, are also explored, as are the effects of AVs on employment and labor in cities.
Anthony Eggert, director of transportation at ClimateWorks Foundation, said: "Done right, autonomous technologies could increase access to jobs and housing across the socio-economic spectrum, accelerate the transition to clean electric vehicles, and complement public transit for those currently poorly served and by addressing the last-mile challenge.
"Realising these benefits, however, will require strong action by cities – this blueprint lays out the key policies and practises that cities can, and should, pursue today."