Amazon orders 100,000 electric delivery vans from Rivian
Amazon has ordered 100,000 customised electric delivery vans for its global fleet from American EV manufacturer Rivian. 
Rivian, which has yet to begin production of any vehicles, has developed a skateboard electric chassis that will underpin a new pick-up truck and SUV.
It is believed that this platform will also be used for the base of the Amazon van, which will use a 180-kWh battery pack that is expected to give a 450-mile (724-km) range.
The first vans are expected to be delivered in 2021 and Amazon plans to have 10,000 on the road as early as 2022 and all 100,000 by 2030. According to Amazon, this will save four million metric tons of carbon per year by 2030.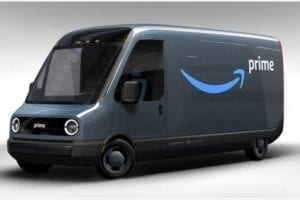 The announcement is the latest move by Amazon to make good on its long-term commitment to power its global infrastructure with 100% renewable energy by 2030 on its path to net zero carbon by 2040.
Amazon, which is now pledging to reach 80% renewable energy by 2024, has already invested more than £350m (US$437m) in Rivian to help it accelerate the development of zero-emission vehicles.
Jeff Bezos, Amazon founder and CEO, said: "We're done being in the middle of the herd on this issue – we've decided to use our size and scale to make a difference.
"If a company with as much physical infrastructure as Amazon – which delivers more than 10 billion items a year – can meet the Paris Agreement 10 years early, then any company can.
"I've been talking with other CEOs of global companies, and I'm finding a lot of interest in joining the pledge. Large companies signing The Climate Pledge will send an important signal to the market that it's time to invest in the products and services the signatories will need to meet their commitments."