BMW Group and Great Wall Motor joint venture
BMW Group as signed an agreement with Chinese manufacturer Great Wall Motor to embark on a China-based joint venture to produce MINI electric vehicles and electric vehicles for Great Wall Motor.
Both companies will create a new state-of-the-art production facility in Jiangsu Province where the joint venture will take place.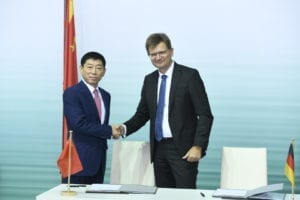 The joint venture and production of electric vehicles in China is key element of MINI's continued strategic development within the BMW Group's Strategy NUMBER ONE > NEXT.
"Our experience as a pioneer and leader in the field of electrification, coupled with Great Wall Motor's proven track-record in efficient industrialisation, enables us together to drive the growth of the largest e-mobility market in the world," said BMW AG for Development board of management member Klaus Fröhlich. "With our joint approach, we can quickly scale up production and increase efficiency in the highly competitive segment of compact electric vehicles."