CiTTi February 2020 – Out Now!
The February 2020 issue of City Transport & Traffic Innovation is out now in print and online.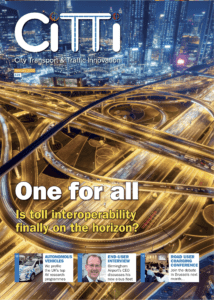 Cover story: One for all
How the US toll industry is making significant strides toward realising its long-term goal of national interoperability…
Autonomous vehicles: Testing times
CiTTi profiles the leading driverless vehicle research and development programmes happening around the UK…
End-user interview: Flying high
As criticism mounts over the environmental impact of flying, Nick Barton, CEO of Birmingham Airport, discusses the green credentials of the airport's new all-electric bus fleet…
Urban logistics: Green streets
John Thornton rounds up of the latest sustainable light commercial vehicles designed for city delivery companies…
Road User Charging Conference 2020
Your definitive preview of this year's Road User Charging Conference, which takes place on the 4th and 5th March 2020 at the Steigenberger Wiltcher in Brussels, Belgium…
You can register to receive City Transport & Traffic Innovation here.