The latest issue of CiTTi Magazine is out now.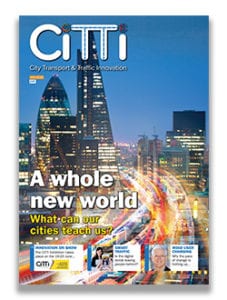 Cover story:
Urban Mobility:
Many cities around the world are pioneering solutions and innovations within urban transportation…
Facts and figures:
Drones are multiplying
Global IoT in smart cities
Transport price trends 5G services in perspective
Smart Traffic:
New technology is changing the way we design, build and navigate our cities. But is a digital divide leaving people with disabilities behind?
CiTTi exhibition preview:
The City Transport & Traffic Innovation (CiTTi) Exhibition will take place on the 19 and 20 June at the MK Arena, Milton Keynes…
RUC Overview:
The annual Road User Charging Conference was held at the Radisson Blu Hotel in Brussels on the 6th and 7th March, 2019…
__________________________________________________________
Subscribe here to get the CiTTi Magazine.