First ever full-scale air taxi VoloPort revealed in Singapore
The Intelligent Transports System (ITS) World Congress in Singapore revealed the first full-scale air taxi vertiport. The VoloPort comes from a collaboration between Volocopter, the German urban air mobility company, and Skyports, who was the vertiport developer, owner and operator. 
The two companies hope to work together to bring commercial air taxi services outside Singapore too.
For the ITS World Congress, Volocopter and Skyports built up the VoloPort prototype on the Float at Marina Bay, Singapore. Numerous visitors are expected at the VoloPort including the EASA, representatives from the EU Commission, and the Ministry of Transport from different countries.
The VoloPort displays many capabilities to support an easy customer journey including operational processes. The showing allows industry leaders and the public to understand what they could expect when using a VoloPort. A stationary Volocopter 2X vehicle is on display too at the heart of the VoloPort.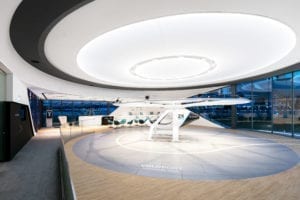 The VoloPort has been designed to offer an exceptional passenger experience using the best modern safety and security processes. Its modular design can easily adapt to fit rooftops, railway stations, parking lots and other metropolitan sites. It will take on various electric air taxis, accommodating business travellers, tourists and those who do not want to sit in traffic.
For urban air mobility to become reality, there are three big aspects that need to be in place: the aircraft, the infrastructure, and the right regulation for both. Florian Reuter, CEO of Volocopter said, "Standing inside the VoloPort makes urban air mobility feel extremely real and demonstrates that air taxi operations are not a faraway future, but very feasible to achieve within the next two to five years. Today marks a fantastic step forward!"
Ground-based infrastructure is fundamental to the success of urban air mobility (UAM). VoloPorts are the only physical infrastructure needed for eVTOL (electric vertical take-off and landing) passenger air taxis to take off and land and are a needed way of establishing commercial operations in urban environments.
To support their expansion plans Volocopter opened an office in January 2019 in Singapore and has begun to establish a local team. Skyports copied in September 2019 and will be taking on full-time local staff in the beginning of 2020.