Ionity unveils new 350kW EV charger
Ionity, a joint venture between BMW, Daimler, Ford, Volkswagen, Porsche and Hyundai-Kia, to develop an EV charging network along major highways across 24 European countries, has unveiled its new High-Power charger.
The 2.6m-tall, 350kW system features a multi-functional LED light ring – dubbed The Halo – that acts as a beacon on highways at night to assist drivers when finding stations on forecourts.
The light ring communicates the charger's availability depending on the colour and provides a lit area for drivers charging their cars at night.
The High-Power charger also features a Human Machine Interface (HMI) screen, which presents information to the user in a structured menu in up to 10 European languages.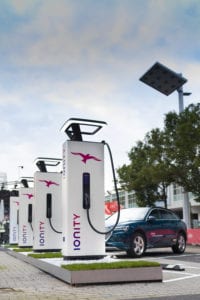 This is supported by a 24/7 hotline which, from October, will be able to respond in the seven most-frequently used European languages.
Ionity's HPC chargers, which have already been installed across Europe, will be updated accordingly to incorporate the same menu.
Furthermore, the High-Power charger's charging cable management system has been positioned so that the cable feeds from above, thereby making it easier for customers when to plug-in upon approach.
The first Ionity station to feature the new High-Power charger will open in Denmark this autumn. Following this, an initial network of 400 High-Power charging stations is planned to be deployed by the end of 2020.
Approximately 140 Ionity HPC stations are currently operating with over 50 under construction.
Michael Hajesch, Ionity CEO, said: "We are confident our new High-Power chargers will make a significant contribution to e-mobility in general and to the European Ionity HPC network in particular.
"Forward-looking product design with innovative lighting solutions, user-friendly cable management, advanced digital user interface and class-leading architecture will make EV charging more convenient and safer for customers."