London Gatwick Airport to trial robotic car parking
London Gatwick Airport has announced it will trial robotic car parking at its south terminal starting from this autumn.
The new project, which is detailed in the airport's new five-year £1.1bn (US$1.3bn) investment plan, is designed to offer passengers "all the benefits of valet parking, without the need to surrender their keys, and thus making more efficient use of existing car park space".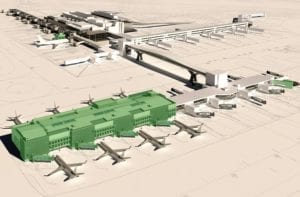 Vinci Airports, which acquired a 50.01% majority stake in Gatwick earlier this year, has already rolled out robotic car parking at its Lyon-Saint Exupéry airport in France. According to Vinci, this experience will aid the introduction of this new service at Gatwick.
Nicolas Notebaert, CEO of Vinci Concessions and president of Vinci Airports, said: "Belonging to the world's most extensive and diversified network of airports is a unique opportunity for each one to get inspiration and capture the best airport management worldwide. As such, Gatwick's Capital Investment Programme will benefit from sharing best practice through Vinci Airports' network and tap into the extensive expertise in programme management, customer experience and innovative new services such as robotic parking."