London to introduce hydrogen double decker buses
Transport for London is to introduce 20 zero-emission hydrogen buses and fuelling infrastructure worth £12 million in London next year to help tackle air quality and drive zero-emission transport uptake following the introduction of London's Ultra Low Emission Zone.
The zero-emission vehicles will run on routes 245, 7 and N7 which travel to Wembley Stadium, or from west London to the West End. The busses feature on-board USB charging points to make bus travel more attractive.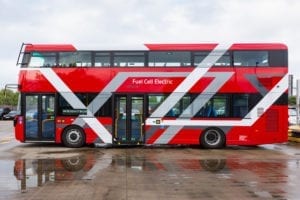 Hydrogen buses can store more energy on board than equivalent buses and can take on longer routes. They can be quickly powered up and only need to be refuelled once a day for five minutes.
The vehicles will be manufactured by Wrightbus in Northern Ireland. More than £5 million of funding is being provided by European bodies and £1 million from the Office of Low Emission Vehicles.
"London's air is toxic, and it needs to change.," said British Lung Foundation chief executive, Dr Penny Woods. "We know air pollution is a threat to all our health, and children, the elderly and those with existing lung and heart problems are most at risk, so it's good to see the Mayor of London tackling the issue head on. This move to cleaner public transport, alongside the introduction of the ULEZ, shows London's leading the way in the fight to clean up the air we breathe and we look forward to seeing even more ambitious action from TfL."
Mayor of London Sadiq Khan added: "We all have a role to play in cleaning up London's toxic air and I've always said that TfL should lead from the front. Following the launch of the world-first Ultra Low Emission Zone last month I'm delighted that TfL has today signed a contract to bring 20 state-of-the-art, zero-emission hydrogen buses to London's streets. We are investing a record £85m in cleaning up our bus fleet, and I am proud that London now has the largest zero-emission bus fleet in Europe."
TfL currently has 165 zero emission buses, with a further 68 electric double deckers set to be on the roads by the summer. Route 323 will become fully electric next year, along with two further routes which are set to be announced.