Mercedes-Benz outlines Ambition 2039 sustainability plan
Mercedes-Benz Cars is striving towards a holistic, sustainable corporate strategy and aims to have a carbon-neutral new passenger car fleet by 2039 as well as attributing 50 per cent of its car sales to plug-in hybrids or all-electric vehicles by 2030.
Mercedes-Benz will also operate CO2-neutral production in Europe as of 2022. It's Factory 56 at its Sindelfingen plant uses renewable energy and will be CO2-neutral from the start. All Mercedes' European plants are expected to follow suit.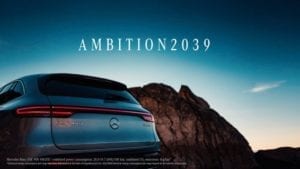 Mercedes-Benz will work with its suppliers in achieving its objective of carbon-neutrality and drive supply chain transparency. It is currently working with organisations like CDP to assess the environmental impact of its supply chain and running workshops with suppliers to identify effective CO2 reduction measures. Mercedes aims to establish CO2 targets as one key criteria in making supplier decisions and contracts across all major commodities.
"We will continue to offer our customers performance and luxury from Mercedes. At the same time we want to significantly reduce CO2 emissions per vehicle. Our R&D team is working together with established partners and startups alike to bring EV performance up and costs down," said future chairman of the Board of Management of Daimler AG, Ola Källenius, who is currently still responsible for group research & Mercedes-Benz cars development as a member of the Board of Management at Daimler.
"Our approach also includes the continuous development of our mobility services, to spread the use of electric models. In addition to cars, we're also electrifying our vans, trucks and buses."
Källenius concluded: "The transformation to a sustainable mobility of the future will only succeed if the auto industry, energy suppliers and policy makers are working hand in hand. It requires massive investments and tangible action also beyond the auto sector. Carbon-neutral energy and a comprehensive infrastructure are indispensable for this system change."