Morris Commercial teases new electric light commercial vehicle
UK-based automotive engineering and manufacturing start-up Morris Commercial has announced that it will soon unveil its new electric light commercial vehicle (LCV), the Morris JE.
The battery-electric Morris JE features a lightweight, modular chassis, making it adaptable for future derivatives. This, combined with its carbon fibre body, reportedly makes the Morris JE one of the lightest LCVs in the marketplace.
The vehicle development project had been kept secret until now, with an engineering prototype fully operational following two years of intensive development at Morris Commerical's headquarters in Worcestershire, England. According to the company, the Morris JE has already undergone extensive road testing.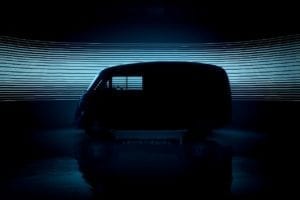 Due to its zero-emission powertrain, the vehicle is being aimed at large and small businesses with a focus on sustainability.
Dr Qu Li, CEO and founder of Morris Commercial, said: "I am so pleased to reach this stage. It's been a fantastic journey and I am extremely proud of what the whole Morris Commercial team and its incredible suppliers have achieved.
"We still have a little way to go to bring the project to full production, but we have the team and the product to make this an enormous success.
"As a business we are committed to environmental sustainability and we are trailblazing a new approach to the production of appealing, fully electric commercial vehicles. We are very excited to unveil the JE to the public this autumn."