Parcelly and Stuart partner
Parcelly recognises that increasing parcel volumes are presenting a challenge for retailer and logistics companies, especially as consumers expect free deliveries. Then, when incorporating return rates as high at 40 per cent the industry faces complex logistical challenges as well as concerns about the environmental impacts.
Therefore, Stuart and Parcelly have launched a bespoke 'Hub-to-Home' solution for retailers. This features Parcelly 'city hubs' which serve as an intermediate for cross-docking and hyper-local warehousing solutions, and Stuart's delivery infrastructure.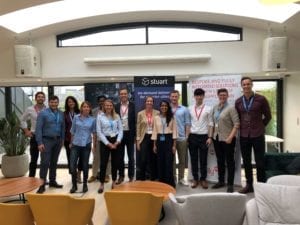 Both services aim to tap further into the future of last mile delivery by introducing a 'smart warehousing cloud' that offers retail customers to achieve quicker delivery times whilst enabling business to lower their carbon emissions and prioritise green deliveries by shortening distances between product and client, incentivising bike couriers over vans.
Retailers can use Parcelly's urban warehouses as short-term storage solution, enabling them to bundle together e-commerce purchases and fulfilment routes. And on-demand courier Stuart arranges one-stop pickup and drop-off for green last-mile delivery to the end customer and reverse.
"This is an exciting opportunity to be able to wow the customer by offering the delivery service that they expect – and 78% of customers expect at least a next day delivery option at check out. By partnering with innovative players such as Stuart and Parcelly, high street retailers can maintain momentum throughout their peak period and deliver an outstanding and sustainably driven customer experience," said Stuart commercial director Nicole Mazza.