Royal Mail trials e-trikes
Royal Mail is trialling the use of e-trikes powered by a combination of pedal, solar, battery and brake technology in a bid to reduce its CO2 emissions at the end of March.
The trial will last six months and take place in Stratford (East London), Cambridge and Sutton Coldfield after which Royal Mail will decide to expand the trikes more widely across the UK.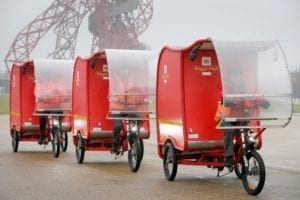 The e-trikes are 1200mm wide x 1968mm high and can be used on roads, highways and some cycle paths. They can accommodate letters, cards and the majority of parcels.
E-trike pedals are assisted by a 250W electric motor and the motor itself is operated by a 48V lithium battery. It is recharged by mains power and supplemented by two solar panels positioned on top of the vehicle. Regenerative braking also helps to power the trike.
"Alongside our ongoing transformation program and the introduction of electric vans in locations across our business, this trial is part of a programme of initiatives across our business that will ensure we can continue to deliver letters and parcels safely, efficiently and responsibly," said Royal Mail director of public affairs, David Gold.
London's walking and cycling commissioner Will Norman, added: "I'm delighted that Royal Mail is trialling e-trikes which will take polluting vehicles off our streets – helping to reduce congestion and clean up London's toxic air. I hope this trial will be extended and other delivery companies follow Royal Mail's lead so that many more communities can benefit."