Sheffield launches clean air initiative
Sheffield has launched a city-wide conversation to discuss its plans to reduce air pollution with a new clean air zone to enable people to have their say in an online consultation.
The Clean Air Zone plans will encourage the most polluting vehicles to upgrade to electric, hybrid or cleaner engines. To help drivers upgrade their vehicles Sheffield City Council is seeking £50million of government support. It also wants to work with taxi and van drivers, as well as every other fleet of vehicle affected, to encourage this.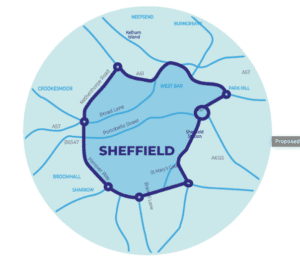 There will be a pollution charge for the oldest and most polluting vehicles such as taxis, buses, vans, coaches and HGVs entering the proposed Clean Air Zone whilst private cars are currently exempt. According to the Sheffield council, taxis, vans, HGVs, buses and coaches make up 20 per cent of the vehicles in the city centre but cause 50 per cent of the harmful nitrogen dioxide emissions.
To avoid congestion charges, buses, coaches, vans and HGVs will need to be electric or the cleanest standard of diesel engine whilst taxis will be to be ultra-low emission vehicles – either electric, petrol-hybrid, hydrogen or liquid petroleum gas powered.
"The facts are clear, taxi drivers, van drivers and other motorists are among the most at risk from breathing in dangerous levels of nitrogen dioxide and we want to protect them and everyone else who lives in our fantastic city. We accept these are difficult conversations but they need to happen so we can improve our air quality," said Cllr Bob Johnson, cabinet member for planning and development at Sheffield City Council.
The Clean Air Zone is set to be launched in 2021. The consultation will seek to understand the impacts of a clean air zone and there will feature a series of events to ensure that all views have been taken into account as the eight-week process continues.
The consultation is available at www.sheffield.gov.uk/cleanair