Singapore opens autonomous shuttle trial to the public
Singapore's first on-demand autonomous shuttle service will officially launch on the island of Sentosa next week, with four vehicles operating along a pre-designated 3.5-mile (5.7-km) route.
The public trial, which will run from August 26 to November 15th, 2019, will enable customers to hail shuttles via the Ride Now Sentosa mobile app or at kiosks along the route, collecting and dropping them at numerous locations on the island, such as Siloso Point, Beach Station, Palawan Beach, Tanjong Beach and Sentosa Golf Club.
Developed by the Land Systems arm of ST Engineering in partnership with the Ministry of Transport (MOT) and Sentosa Development Corporation (SDC), the vehicles deployed for the trial include two minibuses and two smaller shuttles. Each one comes equipped with radar, lidar, GPS, odometry and computer vision, to help sense their environment and identify appropriate navigation paths, obstacles and signages.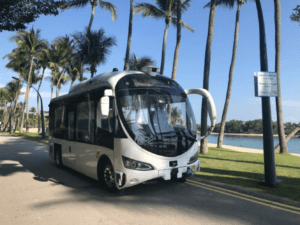 All four vehicles will have a safety driver on board to take over in an emergency. Furthermore, road users and pedestrians will be able to recognise when the shuttles are operating autonomously via signs displayed electronically.
The trial service marks a major milestone since private on-road testing of the autonomous shuttles commenced in June 2018. It is supported by ST Engineering's Autonomous Vehicle Management System, which analyses passenger demand and optimises route management for ride sharing.
Lee Shiang Long, president, Land Systems of ST Engineering, said: "The Sentosa shuttle trial marks a significant step towards the operationalisation of autonomous vehicles in Singapore. Leveraging the Singapore AV R&D ecosystem, we have grown considerably in terms of building up our autonomous capabilities, from adapting the vehicles to navigate roundabouts and operate in mixed-traffic and rain conditions, to developing software for a mobile app to allow passengers to hail an on-demand shuttle."