Solaris to deliver 11 hybrid buses to Satu Mare
Solaris Bus & Coach has announced that it will deliver 11 Urbino 12 hybrid buses to the city of Satu Mare in Romania in the second half of 2020.
The 12m-long (39ft) buses will be fitted with a serial hybrid drive comprising a 120kW electric motor, a 151kW diesel engine, and supercapacitors that store and use recuperated energy.
The vehicles will also be equipped with a 'Stop & Go' feature that controls the diesel engine operation and allows for a reduction in emissions and fuel consumption.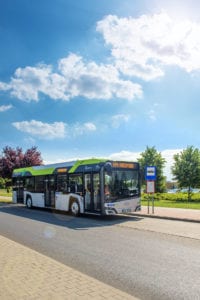 Each bus in the fleet will be adapted to carry a maximum of 96 persons with seats available to 31 of them. Air conditioning and video surveillance will be installed to enhance passenger safety and comfort.
Also, the vehicles will be furnished with a passenger counting system, which means that the operator will have access to information on the number of persons frequenting particular routes.
Solaris' agreement with Satu Mare city council also allows for the supply of four more Solaris Urbino 12 hybrid and two articulated Solaris Urbino 18 hybrid buses.