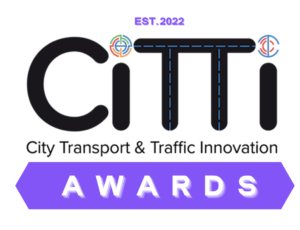 The CiTTi Awards are new for 2022, and are designed to celebrate and reward work in the UK, or by UK based companies and organisations, which assists in the sustainable movement of people and goods through urban environments.
We will be looking for projects in active travel, congestion reduction, air quality improvement, EV infrastructure and charging, last-mile delivery, mobility, transport planning, fleet management, and road user charging. Innovation will be key to success – we want to see novel and original solutions and projects.
Entrants will include local government and other place stakeholders – such as landowners, developers, and Business Improvement Districts – and their project partners which could be architects, planners, contractors, and technology companies. Entries are open now, and will close on July 22nd.
Entries close at 5pm on July 22nd, 2022
In addition to recognising innovation, The CiTTi Awards will provide commercial organisations with an invaluable opportunity to promote and separate their brand from other suppliers in the industry through exclusive category sponsorship. as well as providing an ideal platform to connect with key decision-makers and build brand awareness among the best in the industry, category sponsorship also comes with a host of benefits and features.