Transgourmet food transport invests in Iveco methane trucks
European cash & carry and wholesale supplier Transgourmet has purchased five Allison transmission-equipped CNG-powered Iveco Stralis NP trucks to distribute food goods in and around the southern German city of Ulm as it aims to become more environmentally friendly.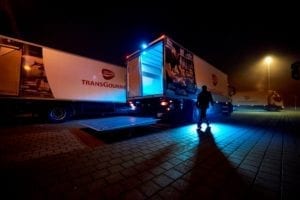 Iveco's natural gas engines reduce particulate emissions by 95 per cent, nitrogen oxides by 60 per cent, and CO2 emissions by up to 90 per cent when using bio-methane. The Allison transmission featuring FuelSense 2.0 uses a real-time learning algorithm that automatically adjusts the transmission control to the load, speed and topography to find the ideal balance of fuel consumption and performance thus achieving further fuel savings.
"Because the commercial vehicle market currently doesn't offer a comparable economically and environmentally-friendly alternative, we have chosen the natural gas trucks with Allison transmissions," said Transgourmet head of logistics services Sven Sauerwein. "So far, we only heard good things about this vehicle configuration and we are excited that it meets our high expectations in terms of energy efficiency, environmental protection, noise reduction and driving comfort."