Volocopter eVTOL makes first flight in European city
Volocopter's VoloCity air taxi took off for its first flight in a European city on Saturday, 14 September, flying over Stuttgart, Germany.
The urban air mobility company's electrically powered vertical take-off and landing aircraft (eVTOL) made its rounds without passengers as a pilot controlled the eVTOL from the ground for just under five minutes.
The demonstration took place at the two-day Vision Smart City – Experience the Mobility of the Future Today event, held at the Mercedes-Benz Museum, where technical innovations and sustainable transport concepts for future mobility were being presented.
The Volocopter demo also formed part of an initiative of a research project by the Technical University of Stuttgart to examine the social acceptance of air taxis.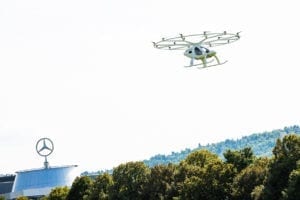 Among those in attendance were the minister-president of the state of Baden-Württemberg, Winfried Kretschmann; the chairman of the board of management of Daimler, Ola Källenius; the CEO of Volocopter, Florian Reuter; and Thomas Strobl, minister of the interior, digitalisation and migration for Baden-Württemberg.
Volocopter's Reuter said: "Our Volocopter air taxis open up a completely new dimension in urban mobility. As Stuttgart saw on Saturday, they fly safely, quietly and are fast approching the implementation stage. Our air taxis are able to ease traffic congestion in major cities around the world, also here in Germany."