Volvo Group creates new business area for autonomous transport solutions
Volvo Group has announced the creation of Volvo Autonomous Solutions (VAS), a new business area tasked with accelerating the development, commercialisation and sales of autonomous transport solutions.
According to Volvo Group, VAS has been assembled in response to global developments characterised by higher demand for transportation, increasingly congested roads and environmental challenges.
As of January 1, 2020, it will commence work to offer safe and efficient transport solutions that have a low environmental impact to customers in such segments as mining, ports and transport between logistics centers.
A key focus will be on the development of self-driving and connectivity technologies, which the Swedish OEM believes are well-suited for applications where there is a need to move large volumes of goods and material on pre-defined routes, in repetitive flows.
Martin Lundstedt, president and CEO of Volvo Group, said: "We have experienced a significant increase in inquiries from customers. With the Volvo Group's wide range of offerings and broad experience of different applications, we have a unique opportunity to offer solutions that meet their specific needs.
"It is a logical next step for us to gather expertise and resources in a new business area with profit and loss responsibility to take autonomous transport solutions to the next level."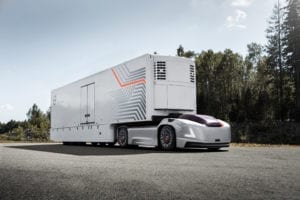 The announcement is the latest step in Volvo Group ongoing efforts to develop autonomous transport solutions.
The company took part in the Electric Site project, which automated and electrified material handling in a quarry. The result was a safer working environment and a reduction of operator costs by 40% and of carbon dioxide emissions by 98%.
At the Brønnøy Kalk mine in Norway, autonomous Volvo FH trucks will be used in commercial operation to transport limestone along a 5-km (3.1-mile) stretch.
Another initiative is the self-driving, connected EV Vera. In its first assignment Vera will form part of an integrated solution to transport goods from a logistics centre to a port terminal in Gothenburg, Sweden.
VAS's financial results will be reported as part of the Volvo Trucks segment.
The recruitment process for the position as head of VAS has commenced.