ZF launches new technologies at North American Commercial Vehicle Show
Global technology company ZF is launching new technologies designed to help create safer roads and lower emissions at this year's North American Commercial Vehicle Show (NACV), which opens today (October 28), in Atlanta, USA.
Among the innovations being showcased at the three-day annual event include a new electric drive axle, AxTrax, on the Freightliner Innovation Fleet eCascadia electric truck; a new eight-speed automatic transmission, ZF PowerLine, for medium-duty vehicles; and its OnTraX lane keep assist technologies.
Following its acquisition of WABCO, a US provider of electronic braking, stability, suspension and transmission automation systems for heavy-duty commercial vehicles, ZF is now positioning itself as an integrated systems provider for commercial vehicle technology.
"Our commitment to the commercial vehicle industry is further proven by two points: ZF is investing US$13.9bn [£10.8bn] in automated driving and electric mobility across all industries we serve, over the next five years; and our planned acquisition of WABCO, creating an integrated systems provider for commercial vehicle technology," said Tomas Bozek, senior vice president for commercial vehicle technology at ZF.
At the end of 2020, ZF will begin production of PowerLine, its new eight-speed fully automatic transmission for medium-duty commercial vehicles, with a major North American OEM launching in early 2021. It can be paired with a wide range of vehicle classes, starting at class 3 up to class 7 / baby 8, and supports engine ratings of 1,000 lb-ft and vehicle weights of 57,000 lb.
The transmission, which enables up to 30% faster acceleration compared to conventional six-speed transmissions, features a high-torque engine-driven PTO interface on both sides, making it suitable for truck applications including pickup and delivery, snow plow, tow truck, refuse truck and bus.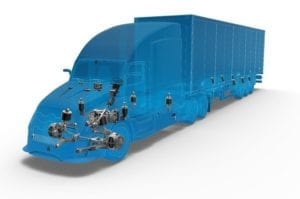 Furthermore, a twin-torsional damper torque converter enables a fuel efficiency improvement of higher than 10% and greenhouse gas emissions reduction when compared to current six-speed transmissions.
"As we look to the future, we must be able to offer customers zero emissions driving solutions, and PowerLine has an eye toward emissions-free trucks, as it will be hybrid-ready upon production, with a future version compatible with electric drive," said Christian Feldhaus, head of truck and van driveline technology for ZF's North American region.
ZF is also using NAVC to showcase how its technologies can help address some of the transportation industry's biggest challenges, including driver shortage, emissions, efficiency, cost and safety.
Feldhaus said: "ZF is proud to announce that our electric drive axle, AxTrax, powers the Freightliner Innovation Fleet eCascadia. It offers zero-emission driving with maximised performance and minimal noise emission – ideal for battery-electric vehicles, hybrid drives and fuel-cell technology. It also enables trucks entrance into zero-emission city zones."
He added that next year ZF will launch OnTraX, a lane keep assist system, with its first major OEM. OnTraX offers further capabilities with the addition of side-mounted short-range radar, including lane change and city drive assist.
When integrated with ReAX the system can be programmed to deliver a haptic warning to the driver when approaching an obstacle or vehicle in a driver's blindspot. The system can also be programmed to urge the driver away the obstacle.
According to ZF, studies show the average cost of lane departure accidents is roughly US$53,000 (£41,300); and 32% of accidents are unintentional lane departures.
"This creates a strong business case for fleets to adopt technologies like OnTraX," said Dan Williams, director, ADAS and autonomy, ZF. "Additionally, regulations placed on the industry will require customers to utilise certain solutions."