Katie Searles reflects on the first full year of UK government-approved e-scooter trials and the issues shaping the future of the technology as a major transport mode in cities across Britain…
In July 2020, the UK's first rental e-scooters rolled out onto the streets of Teesside, Darlington and Hartlepool following a change in legislation allowing for the novel transport option to be trialled. As originally reported in the November 2020 issue of CiTTi Magazine, the trials soon expanded to 10 locations. At the time of writing, the number of UK government-approved rental trials happening across the country had soared to some 57 cities and towns.
But such has been the pace of rental e-scooter deployment over the last 16 months that public concerns and misconceptions around the safety and suitability of the technology as a viable mode of transport have arisen. "An innovation of this type that happens this quickly within urban systems can be challenging to understand," admits Ed Houghton, head of research and service design at DG Cities, an innovation firm focusing on integration of smart city technologies.
Earlier this year, the organisation conducted a survey of both users and non-users of e-scooters to determine public perception of the transport mode. The finding show that safety remains a key issue, with only one in five people believing e-scooters are safe for all road users and only 26.3% believing that they're safe for the riders themselves. The findings also show that, like so many new trends, young people are the quickest adopters, with 42% of those surveyed aged between 18 and 24 having ridden an e-scooter. That's in stark contrast to the 11% of respondents aged over 65 and 3% over the age of 75 who have trialled the mode.
"Younger people are really interested in e-scooters, they're much more excited by these things and they should be able to use them," says Houghton. "Whereas older people and people with disabilities see them as a real issue." Interestingly, DG Cities' study found that men and women held "very similar views" on e-scooters, especially regarding safety and legality issues. As a result of the study, Houghton stresses that public feedback is vital to understanding e-scooter usability and suggests combining the views of riders and other road users – particularly vulnerable people – to help inform future legislation. He also recommends that the findings and data collected from current trials be used to ensure the creation of safe services for all.
Big picture
Combining e-scooters with other forms of zero-emission transport is part of the overall aim of the rental trials as local authorities and operators work together to reduce the number of short-distance private car journeys and improve air quality. These impacts are already being felt in Essex, where nearly half a million e-scooter rides have already been taken collectively across Basildon, Brentwood, Braintree, Chelmsford and Colchester. "Even if that results in just 10% replacing a truck or car journey with an e-scooter, that's still carbon emissions removed," says Tracey Vickers, head of sustainable transport at Essex County Council. "E-scooters are becoming part of integrated transport solutions; people are using them to get to train stations or to bus stations. They're now part of the transport infrastructure."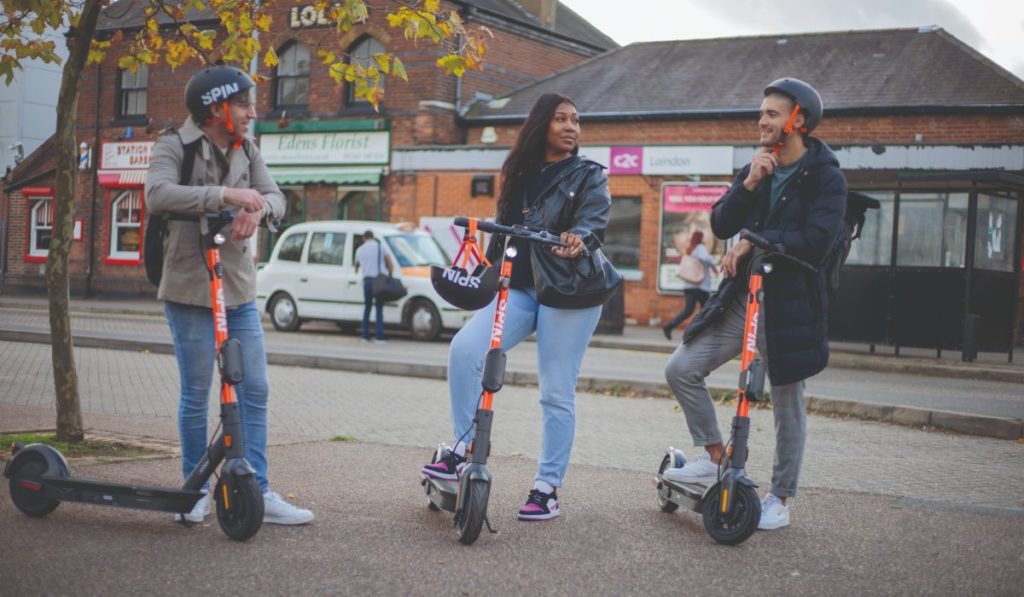 It's exactly this level of integration into existing public transport infrastructure that micromobility operators are striving for. Ask any e-scooter provider and they'll say they aren't looking to replace more active forms of travel, such as cycling or walking, but rather support those modes by providing an alternative first- and last-mile transportation option.
"We want to give people as much choice as possible," says Vickers. "No two days are ever the same, and so there needs to be a greater understanding that a person may use an e-scooter on one day to meet a colleague for a quick coffee, and to get to the train station on another. And so, reflecting on all these things, what we'd like to see long-term are mobility hubs. E-scooters are just part of the overall solution and we have a responsibility to conduct trials safely."
Safety first
As established, safety is an important issue that could determine the future of e-scooters in the UK. This is why the trials are tackling safety concerns head on. According to Steve Pyer, country manager for the UK and Ireland at Ford-owned e-scooter operator Spin, the evolving nature of the trials allows for immediate action to be taken. "E-scooters are the first new motor vehicle to be allowed on UK roads for decades, so trying to make sure that people understand their responsibilities is very important."
This is why the top speed of all rental e-scooters in the London trial has been reduced from 15.5mph to 12.5mph, and why a number of micromobility operators are starting to partner with technology start-ups to help make their vehicles both safer and smarter. "One of our most exciting innovations right now is Spin Insight Level Two with Drover AI," says Pyer of the exclusive international partnership, which uses machine learning to help an e-scooter understand its surroundings in real time and assist riders in making safe riding decisions.
According to Pyers, with this technology, cities can leverage insights for infrastructure planning and improvement. These could include information concerning the prevalence and location of pavement and bike lane riding, or parking, which in turn could be used to identify potential congestion issues and road damage, as well as highlight areas that may benefit from infrastructure improvements. "Crucially the technology can also slow an e-scooter down to a stop until the person goes back onto the road where it should be used," says Pyer. "That's a massive leap forward as we now have greater control over our e-scooters and how they're used."
Legal aid
While the likes of Spin are taking steps to build trust in e-scooters among consumers and cities by enabling technology that creates a safer riding experience for riders and pedestrians, the issue of illegal private e-scooter usage remains a prevalent one that could also scupper future legislation. "I think the main issues for pedestrians is the inability to distinguish between the trial scooters and the behaviours and ways that private ones are being used," says Peter Blackman, chair of the Essex E-Scooter Trials Stakeholder Group.
Currently, privately purchased e-scooters remain illegal to ride on public roads yet can be used on private land. Pyer refers to this as a "quirk of the law" and believes clarity is required as stakeholders call for regulation and licensing of all e-scooters to help protect road users and educate riders. "There's a lot of value – if done in the right way – in designing services around users followed by measuring and understanding what works and what doesn't," says Houghton.
And while many believe e-scooters offer the potential for fast, clean and inexpensive travel that can also help ease the burden on transport networks, many of the trials are still gathering the evidence necessary to guide final decisions about whether and – if so – how to fully legalise e-scooters. Following news in October that the Irish government could be set to legalise e-scooters this Christmas, the UK government will likely be watching to see how the Road Traffic and Roads Bill is implemented to help shape what happens next in the UK.
Behind the scenes
Micromobility company Dott is one of three providers – alongside Lime and Tier Mobility – authorised to operate rental e-scooters in London. According to Transport for London and London Councils, which are spearheading the UK capital's trial scheme, among the reasons for Dott's selection is its commitment to keeping all operations in-house; this includes the vehicles, technology, maintenance and control operations.

In September, Dott opened its first UK warehouse in north London as part of that commitment, as well as to guarantee the safety, quality and reliability of its products. "We want to control the full chain because that gives us visibility on everything that's happening," says Henri Moissinac, CEO and co-founder of Dott.

Dott also wants control over any defects, issues or damages that occur to the e-scooters themselves. According to Ben Gillan, Dott's warehouse operations manager, the company's in-house developed software enables seamless reporting of any problems. "If an e-scooter returns to the warehouse with a problem our mechanics can scan these reports to know exactly what the issue is."

The e-scooters are then taken to one of three different areas, depending on what the issue is. There's an area for mechanical fixes – such as a faulty LED screen, an area for connectivity issues and another area to deal with structural issues, such as replacement of stems or handlebar tubes," says Gillan.

Workstations featuring hydraulic lifting tables enable mechanics to work ergonomically. According to Gillan, many of the units worked on are mobile, creating an environment that provides "flow" in the warehouse. There's also an area for spare parts that houses all e-scooter components Dott needs.

Additionally, Dott aims to guarantee that any e-scooter that cannot be repaired goes on to be used in some capacity, whether it be for parts, or stripping the vehicle down further for individual elements to be used again. This helps to ensure that the production, maintenance and running of the e-scooters is as sustainable as the transport mode itself.
This article was originally published in the November 2021 issue of CiTTi. Click here to view the original article.