Bristol City Council is seeking the views of residents on proposed designs to develop the city's transport network.
Citizens are being invited to have their say on changes to the number 2 bus route and on planned active travel improvements on Park Row.
This comes as part of a wider transformation by Bristol City Council and the West of England Combined Authority over the next decade to make Bristol's transport network better for all. The council said the climate emergency and Bristol's 2030 carbon neutral targets mean that radical changes are needed to the road network that will transform bus travel and encourage cycling and walking.
Bristol residents, businesses, commuters and anyone else who travels along the number 2 bus route and through the Park Row area can give their views on detailed designs and proposals. The designs aim to  improve the safety, reliability and ease of catching the bus, cycling and walking.
Both consultations follow public engagement last year, where the council spoke to citizens and invited them to give their feedback on what improvements are needed along the A37/A4018 and on Park Row, Perry Road, Upper Maudlin Street and Colston Street.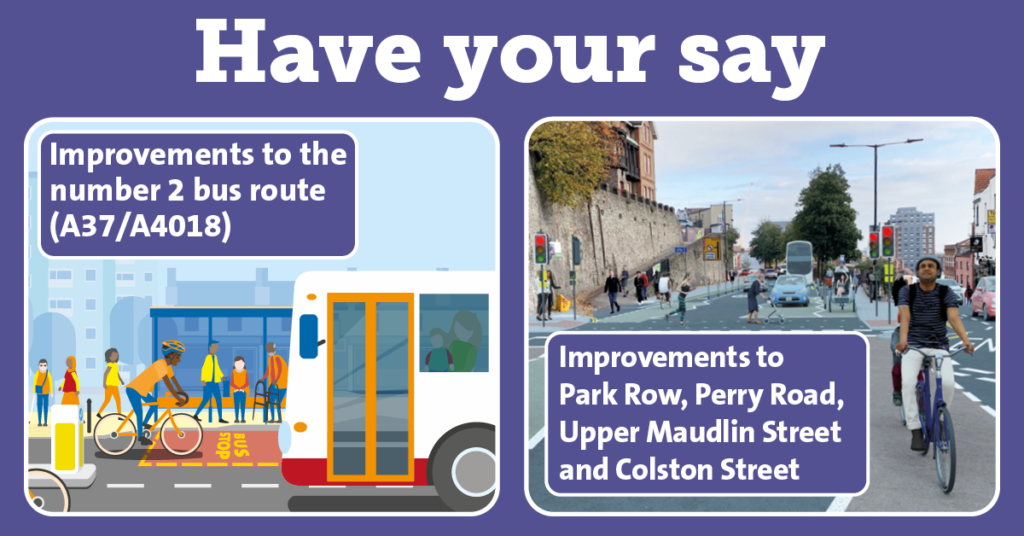 The proposals for the number 2 bus route look to achieve infrastructure enhancements to help buses move quickly through the traffic, improved journey times and reliability. It also looks to provide better pedestrian spaces, safe crossing points and attractive streetscapes, as well as the reallocation of road space for cyclists to make it easier and safer to cycle.
In the area around Park Row the council also aim to support local businesses to stay and thrive by increasing the number of pedestrians, manage traffic flow and reduce pollution in the area around Park Row.
Councillor Don Alexander, cabinet member for transport, Bristol City Council, said: "Following a period of engagement last year, we're now inviting the public to have their say on community-informed designs that lay out positive steps for changing a major transport corridor in and out of Bristol.
"As our city continues to recover from the effects of the pandemic, these improvements will allow Bristol to feel more connected, with shorter journeys and more reliable services, welcoming more people to choose catching the bus, cycling or walking and make the air we breathe cleaner."
Drop-in events will be taking place across the city in the North, South and Central sections of the A37/A4018, alongside online events. The consultation on Park Row, Perry Road, Upper Maudlin, Marlborough Street and Colston Street closes on 16 January 2022 and the consultation on improvements to the number 2 bus route closes on 28 January 2022.