A new EV efficiency rating has been created by electrifying.com to help give car buyers and fleet owners clarity on the most efficient EV models available in the UK.
The E-rating was developed using a smart algorithm to turn several factors effecting EV efficiency into a simple to understand score from 'A++' down to 'E'.
The algorithm considers how well electrical power is converted into miles on the road, the speed at which the battery can be recharged and features such as heat pumps, intelligent brake energy recuperation and climate control preconditioning, that all help to minimise power use.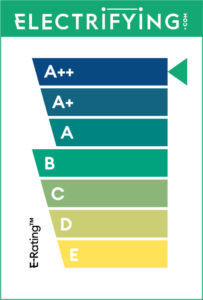 According to the E-rating, the BMW i4 and Tesla Model 3 are the most efficient models available in the UK with maximum A++ ratings.
While the Mercedes EQS, Citroen Ami and e-C4, and SEAT Mii are among 13 models to reach A+ ratings, with a further 14 performing well enough to achieve an A.
At the other end of the scale, the Mercedes EQV people carrier is the only vehicle to obtain an E. The Audi e-tron and Mercedes EQC SUVs were rated D.
Looking at the miles per kWh alone, electrifying.com calculated the cost difference to cover 10,000 miles between an 'A++' rated car (the BMW i4) and a car graded 'E' (Mercedes EQV) to be £580.
While the Mercedes and BMW are not competing in the same class, there are still big differences between EV which are direct rivals. For example, a Tesla Model Y (rated A+) will cost £176 less over 10,000 miles than a Volvo XC40 Recharge.
The rating also considered charge time, finding a Vauxhall Mokka can take on power at twice the speed of a Mazda MX-30, for example, while the newest Hyundai and Kia models can add 60 miles of range in under five minutes.
Edmund King, president of the AA, welcomed the arrival of the E-Rating, he said: "Anything that helps consumers decide on the most efficient EV for their needs in simple terms can only be a positive thing.
"Drivers need to research a range of factors based on their individual needs before deciding on any type of vehicle, and efficiency is a major factor for many.
"Electrifying.com introducing this new tool for electric car buyers makes the process of picking the right electric car for them a much simpler and easier-to-understand process."