Long-running BBC radio soap opera The Archers might conjure images of an idyllic country life, but its storylines frequently highlight real tensions in British society.
The series, set in the fictional village of Ambridge, has been criticised in recent years for storylines which supposedly pander to younger listeners or fail to represent rural life accurately. But the Archers has never shied away from environmental issues, from the escapades of eco-warrior Tom Archer in the late 1990s to more recent episodes about soil health.
Lately, Ambridge has been gripped by a campaign to halt the construction of a new electric vehicle charging station, proposed on a parcel of land being sold by David and Ruth Archer – long-running characters at the centre of the series. This has provoked protests, debates about civic duty and police involvement in the rural idyll.
The placards and slogans of local opponents have fused topics of net zero and the energy transition with anxieties about the future of the countryside. What does this storyline tell us about real rural opposition to such changes?
Charging into trouble
The UK government has pledged to phase out the sale of new petrol and diesel cars by 2030. If electric vehicles (EVs) are to replace them, charging infrastructure must be expanded to help people switch.
By some estimates there are over 35,000 active EV charging ports across the UK. The Department for Transport has pledged 300,000 public chargers by 2030 to stop a patchy network of charging points putting some drivers off buying EVs and allay concerns about their potentially shorter driving range.
Infrastructure built to fulfil national commitments to cut emissions will have important local consequences. The concerns voiced in Ambridge might resonate in rural communities playing host to new construction projects which can bring with them increased traffic, noise and damage to the landscape.
When researching opposition to energy infrastructure for a new book, we learned about Littlehampton in Sussex, a seaside town where residents successfully opposed an on-street EV charging scheme. Residents complained about not being consulted beforehand and argued that charging points, built without off-street parking, would draw drivers from elsewhere who would take spaces from them.
Rural communities have also opposed new renewable energy projects, such as solar farms, for their potential disruption or effect on property values. Many who moved to a rural area to enjoy its natural beauty argue that new infrastructure industrialises the countryside.
Finding community support
In The Archers – like in Littlehampton, Sussex – local opposition to new EV charging stations derives from a feeling that something is happening to residents, rather than with or for them. Some Ambridge residents are suspicious of the shell corporation behind the scheme. In real-life Sussex, residents said that they weren't properly consulted.
Rural opposition is not inevitable, however. With amenities and services often clustered in bigger towns, rural households must travel further to access them, making them particularly vulnerable to rises in the price of petrol or diesel.
This vulnerability has been exacerbated by dramatic cuts to rural bus routes. An analysis by the Guardian found that one in ten routes were axed in 2022, with 42 routes lost from the west of England alone.
Withdrawing public transport funding cuts off rural communities from essential services and friends and family elsewhere. These same communities could benefit the most from an expanded EV charging network.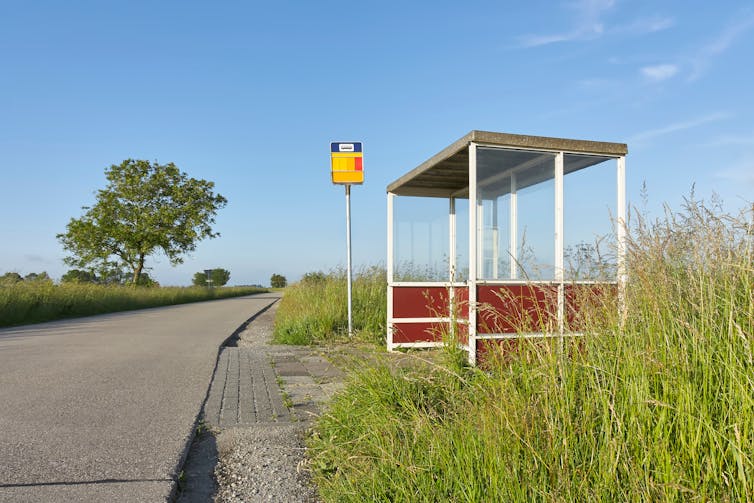 Some rural communities aren't waiting for this to happen and have taken to sharing electric cars to fill the gaps left by lost services instead. For example, new EV clubs are being formed in Wales to give people easier access to shared transport.
These schemes ask people to pay an annual membership fee in return for being able to book a car 48 hours in advance. This is helping people get to GP appointments or job interviews.
But while those living in Greater London might access a charging point every mile on average, this number jumps to one every 16 miles in rural areas.
Plugging the gaps
One reason why rural areas are underserved by EV chargers concerns their cost-effectiveness. In areas where there might be less immediate demand, the upfront investment needed to install a charging point will take longer to pay off.
New subsidies and grants could help install more chargers in more places. But it will be necessary to work with communities to prevent conflict.
Despite the uproar in Ambridge, rural areas have a lot to gain from charging infrastructure. Residents will have differing views which planners must address.
This article was authored by Ed Atkins, senior lecturer, school of geographical sciences, University of Bristol and Ros Death, lecturer in physical geography, University of Bristol. It was republished from The Conversation under a Creative Commons license. Read the original article.