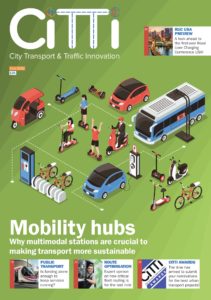 The June 2022 issue of CiTTi Magazine is now available to read online!
ROAD USER CHARGING CONFERENCE USA PREVIEW: What to expect at the first in-person meeting of the USA's tolling, RUC and ITS leaders in Miami…
MOBILITY HUBS: Why places that bring together public, shared and active travel modes with public realm improvement should play a key role in the green transport revolution…
PUBLIC TRANSPORT: Is funding enough to keep major public transport networks from going belly up?
LAST-MILE DELIVERY: Logistics experts join the big debate on greening the final mile of the fulfilment process…
ROUTE OPTIMISATION: Honing in on the rise of route optimisation for faster, greener and more efficient drop-offs…
ROAD USER CHARGING CONFERENCE REVIEW: A round-up of some of the most informative presentations, panel discussions and case studies that took place at the 19th annual Road User Charger Conference in Brussels, Belgium…
CORPORATE INSIGHT: Continental explains how Axxès customers in France can benefit from its Tachograph Management Platform…
CITTI AWARDS: Nominations are now open!