CiTTi columnist Keith Mortimer reflects on the 20th anniversary edition of the world's longest running independent annual gathering of tolling, RUC and ITS experts, which took place on 07-08 March 2023, Steigenberger Wiltcher's, Brussels, Belgium…
Just an hour into the 20th Road User Charging Conference, I was reminded of the well-known Irish blessing, "May the road rise up to meet you". Success in a road usage charging (RUC) venture depends on getting one vital message to road users. Transport Infrastructure Ireland's (TII) eFlow public information and enforcement manager, Róisín Barton-Murray, summed it up: "We love customers, but they cost money."
She and TII customer experience manager Sarah Maddock had everyone sitting up straight while they deftly illustrated eFlow's inventive campaign to drive home the toll payment message fostering compliance and efficient working for Dublin's M50 free-flow toll. Ireland's strategic routes have been transformed by RUC funding in just 20 years, and TII is keen that the continuing story of the road ahead will be equally well-signposted.
RUC has a history, but it's now also gaining a heritage. CiTTi editor John Thornton chaired both days of the event, opening with good news that the landmark anniversary had brought a record both for attendance and supporting partners, in all representing 27 nations. In context, other notable beginnings in 2003 included the London Congestion Charge and the first of ITS UK's RUC Forum meetings. Some 10 countries joined the EU in that year; since then they have all presented transport plans and projects at the Road User Charging Conference.
These days RUC isn't just about the money, and this year's agenda highlighted roles in managing congestion and mobility, climate action and smarter city governance. During the two days delegates gained fresh insights from well-established and new practitioners as the event welcomed more than 30 speakers, event partners and thought leaders.
The programme showed how road pricing was covering new ground after decades of growth in Europe, while enabling innovative policies in the USA and easing traffic challenges in Asia. It included two expert panels debating European policy changes and distance-based urban tolling opportunities.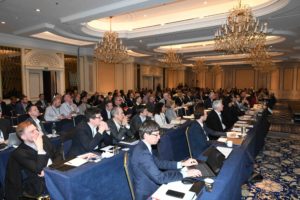 To Brussels and beyond
Bart Dewandeleer was first up on day one, which was filled with national and urban case studies, lessons learned and planning updates. No stranger to the conference, the vice president of Belgium's Viapass HGV kilometre-charge reported that seven active toll providers handled 150,000 HGVs each weekday on behalf of the three Belgian regions, with 99.3% compliance. Passing the halfway mark of the initial contract in 2022, revenues totalled €829m.
Dewandeleer believed that 2023 would be economically challenging; but having weathered Covid impacts, traffic (including from Ukraine) was back on track. Potential for wider scope included light commercial vehicles (1.2 million Belgian and foreign users) and improved cross-border cooperation, possibly via a shared Viapass hub. Like the next (and later) speakers, he stressed the high value of traffic data in building resilient transport operations.
Among several tech-enabled options, most intriguing was the prospect for users to "bring your own device" (BYOD) as an alternative OBU. Indeed, according to Dewandeleer, a back-office linked BYOD might present a few challenges but could bring cost-effective and user-friendly benefits.
The next speaker, Stephan Koesling, leads business strategy for Toll Collect, operator of Germany's heavy vehicle tolled network of 51,000km, and €83bn collected across nearly 20 years. That's a lot of kilometres and a lot of data: enough kilometres to reach planet Mars in two days, and a toll collector's galaxy of data to plan safe parking and services for electric trucks. Results from a Proof-of-Concept study showed how a unified data platform for truckers will help to cut out CO2 and improve security, generating extra value for users and operators.
How might decarbonisation, RUC and taxation work together? The event's lead partner, Arup, followed Barton-Murray and Maddock, whose message, "do your future self a favour", was resonant here, too. Global mobility pricing leader Gavin O'Donnell and cities business unit director Laurens Tait issued a call to industry to play its part and deliver firm options to policymakers: "It's complicated and it's now urgent – expect to invest in technology solutions, taking eight-to-12-years to gain clarity and acceptance."
Global and regional comparisons showed why one size or speed will never fit all. More specifically, Ireland's Project BRUCE (Better Road User Charging Evaluation) embodies a "national conversation" for political, public and industry stakeholders. Arup senior consultant Patrick Andison and TII senior tolling operations manager Ken Pierce described the project as "a journey through change", looking ahead to find the right pathway for Ireland, managing the transition from PPP toll funding alongside transport priorities and options for the National Road Network (NRN).
Options include the removal of tolls on all PPP highways; keeping the scheme as now; pricing all motorways; or pricing the whole NRN. BRUCE deliverables this year will set the scene for building a consensus so that national implementation may get under way in 2028.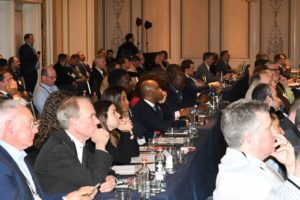 Distance-based RUC featured strongly in every long-term plan presented, although contrasting strategies were seen. Wouter van Haaften, senior researcher at the Leibniz-Institute in the Netherlands, presented a measured view of the "low-tech, finance-driven" Dutch kilometre-charge planned for 2030. Vehicle and fuel tax income for passenger cars, currently €14.8bn, will be replaced. No 'smart mobility' measures were described, with registration via odometer and a flat fee based on weight and emission class.
In such a case any distance driven outside the Netherlands would also be charged, and foreign vehicles would not be included in the scheme. Delegates felt this could lead to cross-border drivers being doubly charged for road use, but (for now) national policy goals were set for simplicity, stable revenues and climate conscious road use.
Sund & Baelt is building the Danish kilometre toll and its programme manager, Lise Jonasen, presented an EETS-compliant model that, from 2025, will replace the current Eurovignette scheme, with a focus on CO2 differentiation. She stressed the importance of cooperation across Denmark's borders, via on-board GNSS units from EETS-registered suppliers and EUCARIS. Fixed and flexible enforcement will utilise ANPR for vehicle classification and DSRC for compliance checks.
Enforcement is indeed important, as Matej Kranjc, project director of Slovenia's state-owned motorway concessionaire DARS, reminded delegates. DARS operates a free-flow truck tolling network together with a parallel e-vignette for light vehicles. The use of a DARSGo OBU or valid e-vignette is mandatory on the 623km network, and Kranjc explained how Slovenia's geography leads to a lot of transit traffic with many occasional users, meaning enforcement must be both quick and efficient.
Infrastructure design must also allow necessary action to take place safely in strategic locations. Stationary and handheld devices are backed by 33 mobile units and an effective back office, so that 93% of violations are processed automatically.
Toll barriers are no longer a barrier to tolling, as free-flow operation becomes the norm. Opened in 1981, the Humber Bridge in north-east England saves drivers a 100km diversion. Andrew Arundel, CEO of the Humber Bridge Board, told delegates that, following a hybrid upgrade in 2015, it was time to go with the flow. Partial free-flow was confusing for drivers and tag use more costly to maintain, so, following the current tendering phase, drivers will move in 2025 to an ANPR-operated open road.
Toxic emissions pose the greatest health risk in cities, and London's mayor is progressively tightening the camera-enforced Ultra Low Emission Zone (ULEZ), expanded in 2021 and (subject to policy) will widen to the M25 boundary in December this year. Lixi Pan and Clare Harrison, senior engineers from Transport for London, covered the story of the Inner London ULEZ, and showed how an entire city's signage could be transformed within a day to meet the new standard. As with Dublin's M50, this was an example of best practice in getting the message to drivers.
Back to Brussels and Jan Cools, CEO of Be-Mobile, tackled some thorny urban issues. Promoting digital services and GNSS-based charging within the region's scattered landscape of 19 cities, where "everyone has an opinion, often polarised", he depicted scenarios of kerbside management, access, parking control and layers of mobility payment including air quality and congestion charging. According to Cools, it was important to give travellers choice regarding mobility, but users could be steered to give priority to public transport, to organise shared mobility and to keep polluting vehicles out of the city centre.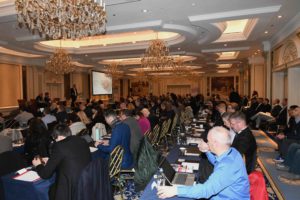 Europe's tolling transitions
By March 2024 hauliers operating zero-emission trucks must receive discounts of at least 50% on road tolls (unless exempted). James Nix, freight manager at Transport & Environment (T&E), focussed on Belgium's truck toll to analyse options for implementing CO2 variation. He recommended the maximum 75% discount, to send a "very positive" signal, with significant tax savings that will encourage more rapid transition.
To be fair, Bernd Datler, managing director of Austrian toll charger ASFiNAG, had started by emphasising the challenges and pitfalls on the road to CO2 based tolling. With effortless navigation of the surrounding landscape Datler used an increasingly complex matrix to define the emission reduction trajectory, requiring constant reclassification over a six-year period. Powerful RUC magic would enable a simple outcome ("two documents, three quantities") so that replacement of the current Euro emissions scheme could be confidently recommended.
SkyToll's head of solutions innovation and architecture, Maria Mardzinovà, discussed EETS and the lessons learned in Czech and Slovakian projects and showed how even small differences in legislation could impede integration and impact costs at all stages. Mardzinovà felt the EU would face challenges in meeting carbon targets and urged that lessons learned should be applied to any planned extension for tolling private cars.
Slovakia's GNSS-based truck tolling scheme (EMS) is now moving to EETS compliance in a multi-provider environment. Toll office director Jaroslav Ivanco explained how, within the EETS framework, EMS will act as the back-office system of the dominant toll charger, providing automated interfaces for data exchange with EETS providers. Registration for the new system begins in July, and existing system usage will end on 01 January 2024.
The two panel discussions brought together industry and public-sector experts to explore the European dimension in more depth. The first covered revisions to the Eurovignette Directive, seeking a better tolling experience in EU member states. James Nix and Bernd Datler were joined by DG MOVE policy officer Giacomo Migliore and Marco Digiola, secretary-general of the European Road Hauliers' Association.
The second roundtable featured independent consultants Nina Elter of NEwROAD Consulting, Peter Ummenhofer of GO Consulting, Norbert Schindler of GNSS Consulting and the eponymous owner of Trevor Ellis Consulting, in a wide-ranging review of opportunities and barriers for implementation of distance-based charging schemes.
Ellis commented on experience of schemes that failed and how their common factor is political, with the question becoming, "how to navigate a horrendous political landscape". Working in US projects, Elter valued careful consensus building. Schindler agreed, decrying "miracle cures" and calling for better presentation of choices. Asked "what would be the next big thing" Ummenhofer favoured BYOD to improve finances and user choice.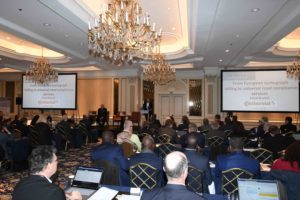 Accounting for technology
RUC practice advances with technology, and the conference agenda included fresh inputs from thought leadership partners. In an update from Continental's session, Daniel Brunelli, head of product and program management for tolling solutions, bridged the gap between telematics and tolling. He explained how innovative use of 'Smart Tachograph' solutions offered ease of use across European toll domains, with opportunities to simplify fleet operations, assist compliance and reduce empty trips.
Michael Leyendecker, tolling sales director for Europe at Vitronic, discussed a new AI-based video enforcement platform, demonstrating how a customised enforcement solution could be based on a standardised, high-performance product. First used in Poland's free-flow toll, the image-based technology detects, identifies and classifies each vehicle in a single passage without the need for laser scanning or hardware triggers.
The Telepass truck offer – K1 Telepass SAT – presented by heavy vehicles services' business unit manager Emilio Speciale and tolling and smart devices lead Luca Grasso, encompassed tolling, telematics services, on-road assistance and service management covering 14 countries in Europe with four more to add this year. Speciale stressed the importance of geodata and interoperability – main themes of the event – in creating a 'travel buddy' to manage driving, parking and pollution, with "all documents one click away".
Norbit's vice president of sales (DACH), Asbjørn Dahl, and connectivity director, Örjan Feldt, conducted a deep dive into the company's technologies, deployed globally in high-integrity environments. In-house abilities bring connectivity for tolling, enforcement and fleet management. We surfaced in Hungary, where Norbit is an audited tolling declaration operator; offering 'e-tolling technology as a service', this Nordic technology architect brings scalable developments for further EETS providers and ITS markets.
Global perspectives
Speakers from Asia, the USA and Europe illustrated that the time has come to place RUC at the centre of transport policy, while responding to a range of cultural norms and user expectations.
From FEDRO, the Swiss Federal Roads Office, economist and mobility pricing project manager Roman Rosenfellner discussed plans to replace mineral oil taxes with a distance-based levy. During a transition to EV use, the policy is for taxation levels to be equivalent, while costs should stay the same for all road users. In maintaining this balance, instead of a 'big bang', a gradual transition is seen as less complex, avoiding undesirable side-effects such as fuel tourism and allowing lower costs of operation and enforcement.
Dr Elly Sinaga, president of Indonesia's Road Safety Partnership, focussed on Indonesia's unsustainable traffic congestion, and unacceptable toll gate queues causing major losses – of life as well as financially. She detailed a GNSS-based solution set to supersede manual, card-based payment from 2024, introduced across Java and Bali for 1,713km on 40 toll roads. Scalable for a planned 5,000km network, users may choose to use their own devices (e.g. smartphones) and e-wallet or install new on-board equipment. The technology may also support Jakarta ERP and parking solutions without new roadside infrastructure.
Nerejda Hoxha, road infrastructure and policies coordinator of the Western Balkans' Transport Community, presented the findings of a study recommending a two-step approach to interoperability between six regional partners, their neighbours and EU tolls. A financial model was built with adaptable parameters and filled with data of a "virtual" seventh partner. Pilot schemes are proposed for 2024/25. Parameters follow values and trends observed especially in Bosnia & Herzegovina, North Macedonia and Serbia, allowing all partners to model optimal scenarios for traffic and tolls, fuel usage and climate action.
Will a US national RUC pilot go ahead? Adrian Moore, vice president of policy at the Reason Foundation, stressed that mileage fees "are a possibility, one being tested, not a policy being implemented". That said, over half of US states are involved, encouraged by a new round of federal grants, recognising that mileage-based payments are an effective way to fund transportation.
Some are taking initial steps, others are refining tested schemes or moving forward with multi-state pilots, as in the Delaware and Eastern Corridor Coalition pilot. Even more ambitious, the US national RUC pilot would demonstrate that user fees could "maintain the long-term solvency of the Highway Trust Fund". Last August's 'Infrastructure Investment And Jobs Act' included a five-year, US$50m budget and is currently awaiting a green light from political leaders.
Thornton then concluded the conference, publicising the second Road User Charging Conference USA in Miami, on 26-27 April 2023, and announcing the coming-of-age of the Road User Charging Conference in Brussels on 05-06 March 2024.