The winners of the first-ever CiTTi Awards have finally been revealed!
The winners were announced during a glittering gala dinner held on Tuesday 22 November at Rose Court's Level 10 event space on Southwark Bridge Road in London.
Hosted by CiTTi Magazine editor John Thornton, the ceremony recognised and celebrated the hard work and innovation demonstrated by UK public-sector organisations and their private-sector partners in enabling the sustainable, safe and efficient movement of people, goods and materials through urban environments.
With more than 100 transport professionals in attendance, the finalists comprised 50 shortlisted entries from 30 organisations across 11 categories that highlighted achievements in active travel, clean air, congestion reduction, electric vehicle charging, fleet innovation, last-mile delivery, public transport, road safety, shared mobility and smart parking.
"Having been at the editorial helm of this publication for just over three years now, I've seen and reported on a simply astonishing amount of innovation from a sector that has faced, and continues to face, some incredible challenges," said Thornton.
"Those shortlisted are among the best of the best and they each deserve great credit for the contributions they've made, and continue to make, to the development of sustainable urban mobility in the UK. Congratulations to all our finalists!"
Scroll down to discover the winners. You can also read the full stories behind all the successes – and more details on the categories and entry criteria – exclusively in the November 2022 issue of CiTTi Magazine!
Active Travel Award winner: Hackney Council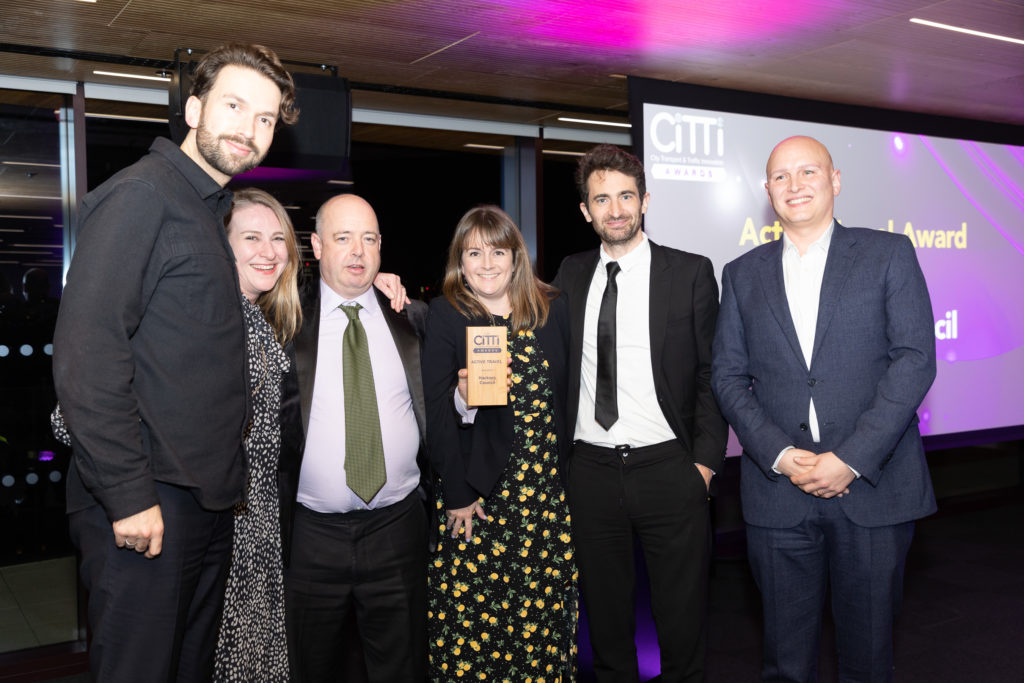 Why they won: This award went to Hackey Council for its 'Rebuilding a Greener Hackney' project, which saw the introduction of 19 low traffic neighbourhoods and 40 school streets across the borough and resulted in an average traffic reduction of 38% within the LTNs. What's more, a quarter of residents reported an increase in the amount of walking, running and cycling they do and almost a third of car users said they drove less as a direct result of the schemes.
What they said: We have more Low Traffic Neighbourhoods than any other local authority in the country, so did we expect to win? Yes, of course! It's clear that Hackney is leading the way. Often we've been mentioned in the fact that London leads the way in active and sustainable travel, and Hackney leads London. We hope to carry on delivering leading programmes for sustainable transport, making lives better for people walking and cycling, reducing traffic and congestion and improving air quality."
Shortlist
Glasgow City Council with Q-Free
Hackney Council
Staffordshire Council
Clean Air Award (Projects) winner – Oxfordshire County Council

Why they won: Oxfordshire County Council won this award for its Zero Emission Zone (ZEZ) – a first-of-its-kind road-user charging scheme that charges drivers of all petrol and diesel vehicles, including hybrids, between £2 to £10 per day to enter a boundary area comprising eight streets in Oxford city centre, known as the 'red zone', between 7am and 7pm, while making zero-emission vehicles exempt from charge.

What they said: "We're really delighted to win. It's fantastic. This has been a lot of hard work and it's going to make a real difference to the people of Oxfordshire. We did an awful lot of engagement with businesses in the area to make sure that the ZEZ was a success and that people were happy with it and knew what was coming."

Shortlist
City of Edinburgh Council
Oxfordshire County Council
Transport for Scotland
Oxfordshire County Council with EarthSense
Evri with Zedify
Clean Air Award (Vehicles) winner: Evri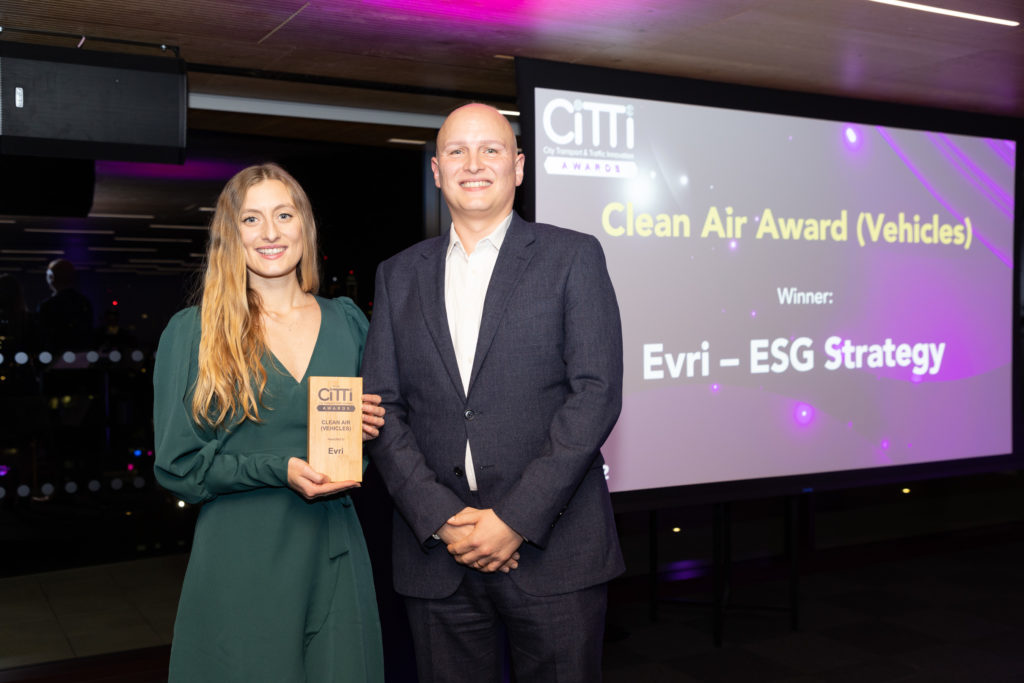 Why they won: Evri won this award for the vehicle-based outcomes of its environmental, social and governance strategy, which included adding 70 Bio-CNG tractor units in 2021/2022, taking the total to 160 units, which represents 50% of Evri's core tractor fleet and gives the company the UK's largest CNG parcel delivery fleet. The judges were particularly impressed by the environmental benefits of this vehicle type, which, when compared to a Euro 6 diesel vehicle, results in an 80% CO2 reduction, 70% less NOX, 99% less particulate matter, 90% less NMHC and 80% less methane.
What they said: "Amazing! We didn't expect to win, it was a really, really amazing category with a lot of entries and some great projects going on. But our team is delighted that we've won. It's great that our strategy has been recognised, we're really proud of it. And hopefully, that's contributing towards our customers' needs."
Shortlist
DPD Group
Evri with Zedify
Hackney Council
Hived
Islington Council with HumanForest
Islington Council with Magtec
John Lewis Partnership with Flexible Power Systems
Transport for London
Congestion Reduction Award winner: Lewisham Council with Marston Holdings

Why they won: Lewisham Council and Marston Holdings won this award for the Lewisham School Streets programme, which saw 45 CCTV cameras monitor traffic around 22 schools across the London borough, successfully removing more than 860,000 vehicle movements throughout the academic year at school drop-off and pick-up times.

What they said: "It's a spectacular achievement. Lewisham has implemented an aggressive but wholehearted scheme to expand our school streets for every primary school that wants them. We believe that this is an integral part of an actually progressive way of managing our city, working with our partners in Marston Holdings. We couldn't have done it on our own. And we don't believe we can do everything on our own, and that's the strength of this achievement."

Shortlist
Coventry City Council
Hackney Council
Lewisham Council with Marston Holdings
EV Charging Award winner: Leeds City Council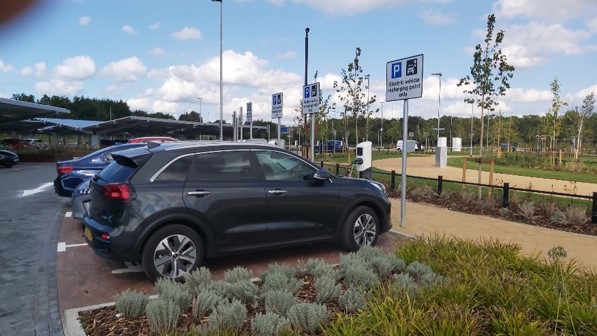 Why they won: Leeds City Council won this award for Stourton Park & Ride – the first fully solar-powered park and ride facility in the UK. The site has been equipped with 26 x 7.5kW EV charging bays and 4 x 50kW chargers, providing support for both park and ride users as well as in-journey charging for those travelling along the adjacent strategic road network to, from or through Leeds.
What they said: "This is an excellent result for Leeds City Council and all the delivery partners involved. This was a very strong category with some excellent projects but we are very proud of the scheme we have delivered and feel it deserves recognition. For this reason this award is very welcomed."
Shortlist
John Lewis Partnership with Flexible Power Systems
Leeds City Council
Network Rail
Oxford City Council with Pivot Power
UK Department for Business, Energy & Industrial Strategy with Connected Kerb
Fleet Innovation Award winner: DPD Group

Why they won: DPD Group won this award for its work in reducing its fleet's carbon footprint to the lowest in DPD's history. Since January 2020, the company has grown its all-electric last-mile fleet by 900% to reach more than 2,000 vehicles and hasn't purchased a new diesel final-mile vehicle since then, instead investing more than £90m in the latest EVs to deliver more than 16.5 million clean and green parcels in 2021 alone.

What they said: "We're absolutely delighted! We didn't expect to win because the competition is always really strong, but we know we've got a really strong offering so we're just really pleased that was recognised by the judges."

Shortlist
Calor with Trakm8
DPD Group
Evri
Islington Council with Magtec
John Lewis Partnership with Flexible Power Systems
See.Sense with University of Plymouth and CoBikes
Last-Mile Delivery Award winner: Kuehne+Nagel with CitySprint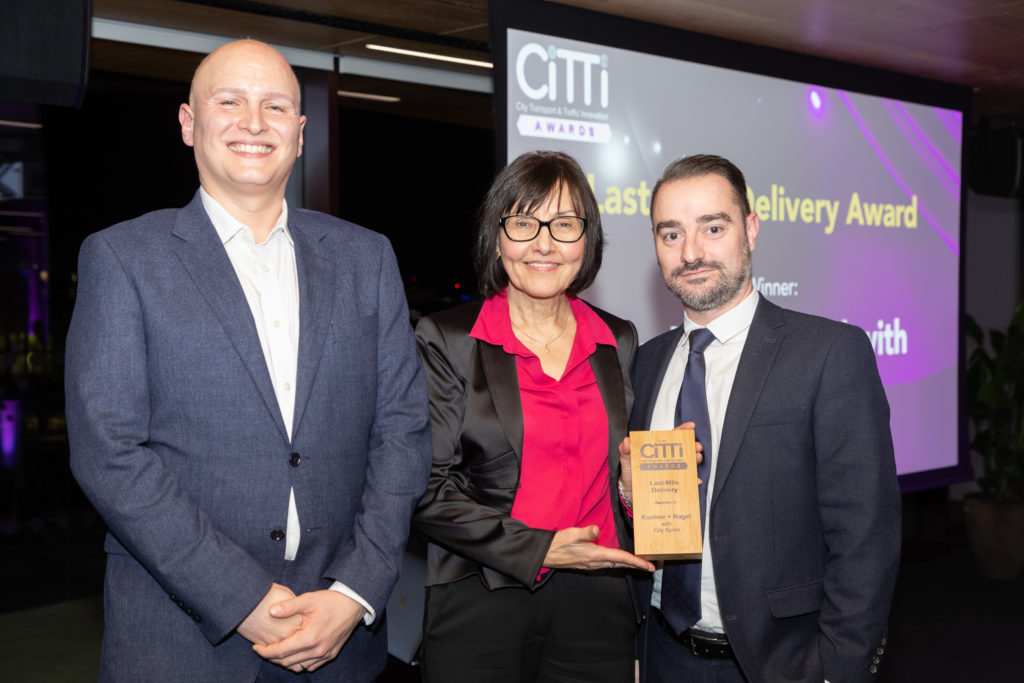 Why they won: This award went to Kuehne+Nagel with CitySprint for their response to a request from the UK Department of Health & Social Care to create a solution to support the last-mile delivery of lateral flow test kits to educational settings across the UK. Over a nine-month period both organisations successfully delivered an estimated 210 million Lateral Flow test kits to 185,000 individual educational settings, thereby supporting the government's Covid-19 pandemic response in keeping children and young adults in education during a critical period.
What they said: We didn't expect to win, but we feel amazing and very happy to have won. From the management to the people on the shop floor who ensured that deliveries went out to schools, everyone made this project successful, which allowed us to deliver such challenging requests from the UK government and the criticality of Covid-19 and working to help with the pandemic response."
Shortlist
DPD Group
Evri – ESG Strategy
Evri with Zedify
Hived
Kuehne+Nagel with CitySprint
Mango Logistics
Pall-Ex
Public Transport Award winner: Milton Keynes Council with Via Transportation

Why they won: This award went to Milton Keynes City Council with Via Transportation for the successful deployment of MK Connect – the UK's first public, demand-responsive transport service providing shared trips, using electric vehicles. What made this entry stand out is how, just six months after launching MK Connect, Milton Keynes City Council had replaced all underperforming subsidised bus routes with the demand-responsive transport service to cover the whole city.

What they said: "We're really delighted to win. Milton Keynes City Council was a trailblazer in working with us to be able to monitor transport services, so we're hoping to see lots of other local authorities take a similar steer and to put in DRT schemes to get more people back onto public transport."

Shortlist
Blackpool Transport with Ticketer
Milton Keynes Council with Via Transportation
Transport for Wales with Via Transportation
Road Safety Award winner: Transport for London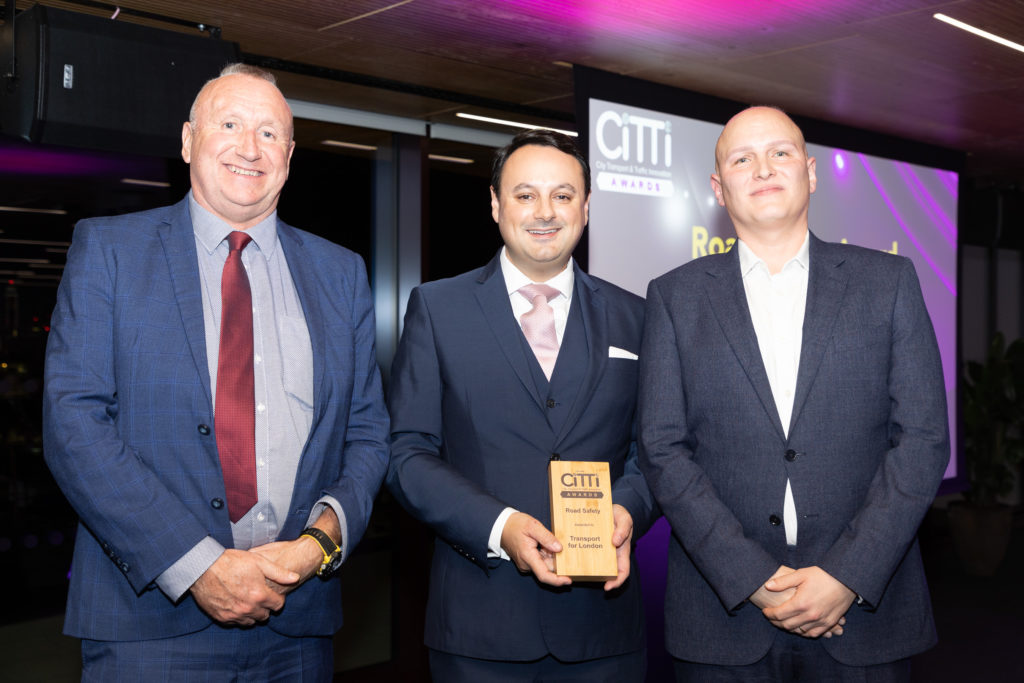 Why they won: Transport for London' won this award for the creation of the Direct Vision Standard and Heavy Goods Vehicle Safe System, which was launched in 2021 and was developed to reduce road collisions caused by poor sight lines from HGV cab windows. What stood out to the judges is how, in the first year of the DVS, more than 191,000 permits were issued, meaning that 94% of HGVs in London now operate with a Safety Permit, while the overall number of serious injuries involving HGVs fell from 48 in 2017 to 17 in 2021.
What they said: "We are very pleased to have won. The team at TfL has taken the initiative to try to make HGVs far safer than they have been. And from the first year of implementation, we know we have evidence that the DVS is actually saving lives, which is what it's all about."
Shortlist
Glasgow City Council with Q-Free
National Highways
National Highways' Southwest Road Safety Team
Transport for London
Shared Mobility Award winner: Transport for Norwich with Beryl

Why they won: Transport for Norwich and Beryl won this award for the successful rollout of a multimodal transport fleet in Norwich throughout 2020, which offers 225 pedal bikes, 25 electric bikes and 100 e-scooters. The judges were particularly impressed by the fact that the scheme has seen 600,000 journeys in just over two years, equalling nearly 70 tonnes of CO2 emissions saved.

What they said: "We're thrilled that the Norwich Beryl scheme has won this award. The scheme continues to go from strength to strength. The green bikes and e-scooters are now well known across Norwich and many of our locals and visitors have become 'Beryl converts' using them to make those shorter journeys to work, education and leisure, rather than taking their car. The scheme is proving to be a highly valuable tool in getting more cars off the road and helping us to achieve our targets around net zero."

Shortlist
Highlands and Islands Transport Partnership with FOD Mobility
Islington Council with HumanForest
Transport for Norwich with Beryl
Smart Parking Award winner: Central Bedfordshire Council with Colas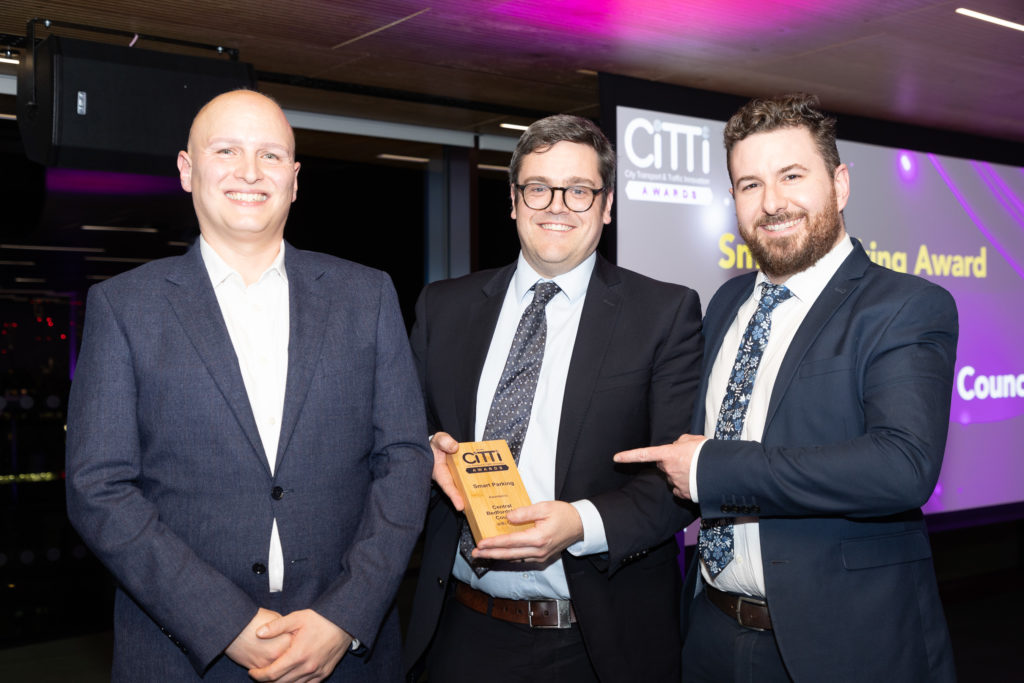 Why they won: Central Bedfordshire Council and Colas won this award for Wattway by Colas, a unique photovoltaic road surface solution that generates renewable electricity whilst providing a safe surface for all vehicular traffic. This entry saw the installation of 216 solar panels into the surface of the car park at Central Bedfordshire Council's Thorn Turn Highways Depot in an effort to support a significant reduction in the carbon footprint of the facility, by providing sufficient on-site renewable electricity to light, heat and power the depot.
What they said: "We're delighted to win on behalf of ourselves and Central Bedfordshire Council, and all the other people involved in making the project happen. That includes Ringway Jacobs and Cranfield, who were involved in the number-crunching during the project. We also can't not mention the ADEPT Live Labs Scheme, which provided the funding stimulus for this kind of innovative project to happen."
Shortlist
Central Bedfordshire Council with Colas
Stansted Airport with Marston Holdings
A huge thank you to all the winners, finalists, entrants and judges that took part in these inaugural CiTTi Awards – it wouldn't have happened with you! Watch this space for further announcements regarding the second annual CiTTi Awards, for which entries will open in March 2023!