The world's first hydrogen-powered double-decker bus has arrived in the Scottish city of Aberdeen.
A number of the zero-emission vehicles will be visible around the city for several weeks during a period of final testing along with training for drivers, with a total of 15 buses expected to be in service next month.
According to Aberdeen City Council, the buses are as efficient as electric equivalents, with refuelling taking less than 10 minutes and offering a greater range. Water is the only emission from the vehicles, which reduces carbon emissions.
Aberdeen City Council co-leader, councillor Jenny Laing, said: "We are very proud to bring the world's first hydrogen-powered double-decker buses to Aberdeen as it shows the city continues to be at the forefront of developing green technologies.
"The rollout of the new double-decker buses will help to cement Aberdeen's position as an entrepreneurial and technological leader as the new buses come with even more advanced technology, which pushes established hydrogen boundaries and greatly assists us in tackling air pollution in the city."
The buses have been manufactured by Wrightbus in Northern Ireland and will add to the city's existing fleet of hydrogen and electric vans, road sweepers, and cars through a car share scheme.
The vehicles will be operated by First Aberdeen mainly on the Service 19 route (Peterculter to Tillydrone) along with other services and is part funded by the European Union's JIVE project, which aims to aid commercialisation of hydrogen buses through joint procurement between cities.
Cities set to follow Aberdeen in adopting hydrogen buses include London and Birmingham, with Dundee and Brighton and Hove being lead partners in JIVE2. The new £8.3m project has been funded by Aberdeen City Council, with £3m from the Scottish government, and an investment of about £500,000 per vehicle from the European Union.
The UK's first hydrogen production and bus refuelling station was opened in Aberdeen in 2015, as part of a £19m green transport demonstration project. The Aberdeen City Council-led project tested the economic and environmental benefits of hydrogen transport technologies and aims to drive the development of hydrogen technologies.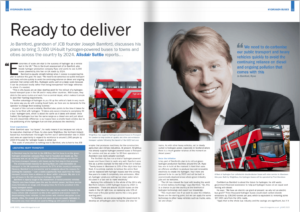 Click here to read our interview with Jo Bamford, Wrightbus owner and executive chairman, in the July 2020 issue of CiTTi Magazine, where he outlines his vision to bring 3,000 UK-built hydrogen buses to towns and cities across the country by 2024!