The Ministry of Transport, Communications and Works of the Republic of Cyprus has awarded a contract to Spanish private capital technology business group GMV to upgrade the country's public transit system.
Under the terms of the deal, GMV, which has worked with the Cypriot government since 2016, will implement a modern ticketing system on the 750 buses that make up the fleet operated by six companies under concession by the ministry.
The account-based ticketing (ABT) system will allow passengers to travel ticket-free by supporting multiple identification alternatives for accessing and paying for public transportation, including contactless cards, phones, smartwatches, and bank cards.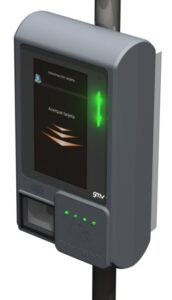 The ABT solution replaces the current integrated, automated and auditable ticketing system installed by GMV seven years ago.
According to the company, the cloud-based ABT solution allows for greater flexibility when generating fares or tickets and provides an immediate benefit to both the transit operator and the traveler.
What's more, operators' workload is reduced, allowing them to focus on driving and service compliance in terms of schedules and punctuality, while passengers benefit from a common fare system across the country.
As part of the project, GMV will also implement a pilot bank card payment system on buses in the Famagusta district, a city in eastern Cyprus, using EMV Transit Level 3 technology.
For credit and debit card transactions, this technology validates the integration of payment terminals that are compatible with bank systems.
This will be the first deployment of such a system in Cyprus. In the medium term, the aim is to deploy it across the rest of the country.
Among other things, GMV will supply its new TV100 contactless card validators, which allow both regular transit and bank cards to be validated using the same reader.
It will also provide the other system components required to achieve EMV Transit Level 3 certification, including the payment gateway subcontracted to e-payment solutions provider Switchio by Monet+.
GMV will also deliver certain subsystems, such as a new topology editor based on GMV Planner, GMV's solution for planning and optimising transportation services, and a business intelligence tool.
Finally, the project entails renovating the display boards at the main bus station in the capital city Nicosia and migrating the entire IT infrastructure to the cloud.
Innovations and achievements in public transport will be celebrated at the second annual CiTTi Awards on 21 November 2023 at the De Vere Grand Connaught Rooms in London. Visit www.cittiawards.co.uk to learn more about this unmissable event for the UK's transportation sector – and to book your table today!