Mobile parking payments firm PayByPhone has teamed up with Gardners, UK-based print manufacturer, to create 'pollution eating' signage for its environmental initiative, Meters for Trees.
The new posters and stickers will use a coating technology that reduces harmful NOx pollutants in the air. ReActivair's coating is made of naturally occurring minerals and purifies air by using energy from sunlight to breakdown harmful pollutants and odour molecules. It also keeps the printed surfaces of the stickers and posters cleaner for longer.
James Morris, sales director for Gardners, said: "Despite seeing improvements in air quality in the early stages of lockdown, we now know that it is returning to pre-pandemic levels, especially in busy city centres.
"Car parking locations are ideal for ReActivair as just one square meter can take about 2g of NOx out of the air every day."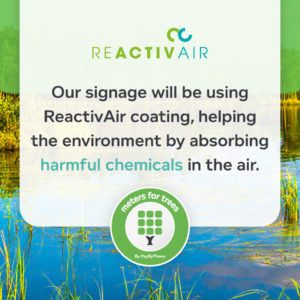 The new Meters for Trees signage using ReActivair technology will be rolled out for new installations this month.
The signage will have the ReActivair logo and an information banner explaining how it works and what it does.
Anthony Cashel, marketing and operations director for PayByPhone UK, added: "We are very excited to have created truly green signage thanks to the ReActivair technology.
"We launched Meters for Trees in 2019 to help our clients reduce carbon emissions and meet their environmental goals by removing their parking machines in favour of our cashless parking payment technology.
"This new pollution-eating signage further improves air quality in the communities in which we work."