Road User Charging Conference USA 2024 will take place at a brand-new venue and time, the event's organiser, Akabo Media, has announced. 
Next year's edition of the USA's leading independent business event for American tolling and road-usage charging (RUC) professionals will now take place at the Intercontinental Miami hotel in Dowtown Miami, Florida on the new dates of 22-23 May 2024.
Positioned next to Bayfront Park, on Biscayne Bay, the Intercontinental Miami is built around Henry Moore's famous sculpture, The Spindle, with the city's international airport, business centre and beaches all within easy reach.
Explaining the decision to move the conference from its previous location, Akabo Media said it required a venue that can accommodate the growth of the event, which has now entered its fourth year.
Thus, Road User Charging Conference USA 2024 will be held within the Intercontinental Miami's Bayfront Room, which has a capacity of 150 people.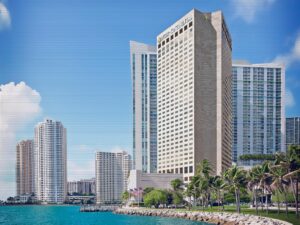 "We're hugely excited to be able to bring next year's Road User Charging Conference USA to such a fabulous venue," said John Thornton, editor of CiTTi Magazine and content lead for the conference.
"We've got ambitious plans for this event in 2024 and fully expect to deliver the biggest and best edition yet – with more speakers, partners and delegates than ever before."
Next year's Road User Charging Conference USA will bring together transportation professionals from US state DOTs, MPOs, transit agencies, think-tanks, lobbying groups and alliances across America to discuss the key topics affecting senior decision-makers responsible for operating and maintaining the country's major road and transportation networks – chief among those being the fiscal challenges US states face regarding their reliance on the dwindling gas tax as a primary source of future transportation and infrastructure funding.
US think-tank Reason Foundation was recently announced as an official NGO partner not only for Road User Charging Conference USA 2024, but also for this year's Singapore-based counterpart Road User Charging Conference Asia Pacific 2023, which marks the third installment in Akabo Media's global Road User Charging Conference series.
What's more, all three conferences can now be accessed via a brand-new home: visit http://roaduserchargingconference.com and choose to click through to dedicated sites for Road User Charging Conferences in Singapore, Belgium and the USA.
To stay up to date with the latest speaker and partner announcements for Road User Charging Conference USA 2024, please click here. Delegate registration for the event is also open now. To register as a delegate, and to take advantage of our special, time-limited early bird rates, please click here.