Truckfile, Dakota Integrated Solutions, VisionTrack and Nicholls Transport were among the winners of the transport categories at the 27th annual Supply Chain Excellence Awards, held last night [Thursday, 09 November 2023], at the London Hilton on Park Lane. 
The winners were announced and the trophies were presented during a glittering gala dinner ceremony attended by nearly 750 logistics, supply-chain and transportation professionals, and hosted by renowned British stand-up comedian and presenter Zoe Lyons.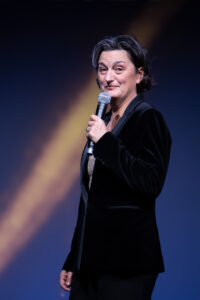 This year's Fleet Innovation of the Year Award, which recognised projects that embraced cutting-edge innovations transforming fleet management into a more sustainable, reliable and efficient operation, was presented to Truckfile and Dakota Integrated Solutions for their voice-directed maintenance and inspection solution.
The system provides voice-enabled solutions purpose-built for the maintenance and inspection marketplace, enabling companies to run a better and more compliant business with voice-enabled tech. Operators use a compact, wearable computer headset to communicate directly with the host system to confirm their actions verbally back to the system in real time, hands- and eyes-free.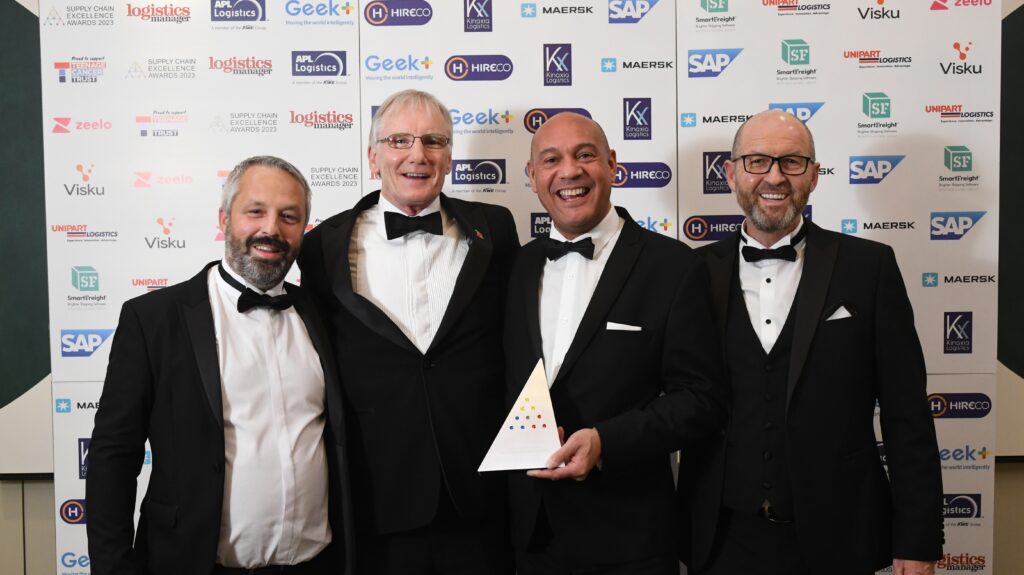 The voice-directed maintenance and inspection solution's 99.9% real-time update accuracy was a deciding factor in the judicial process.
Paul Whittingham, managing director at Truckfile, said: "There was stiff competition and it's amazing to win, we're really proud to accept this award. 
"We had a strong level of confidence but with the competition – great people – unfortunately for them we came in first place. I think we have a very competitive solution." 
Open to vehicle manufacturers and/or technology suppliers on behalf of a client fleet manager, the Fleet Innovation of the Year Award also saw shortlisted entries from Prohire and VisionTrack.
Next up, the SmartFreight Smart Mobility Award was won by VisionTrack for its notification, analysis, and risk assessment (NARA) software.
The post-analysis tool, powered by artificial intelligence (AI), is transforming how collisions, near misses and driving events are reviewed and monitored by automatically analysing vehicle camera footage, without the need for human involvement.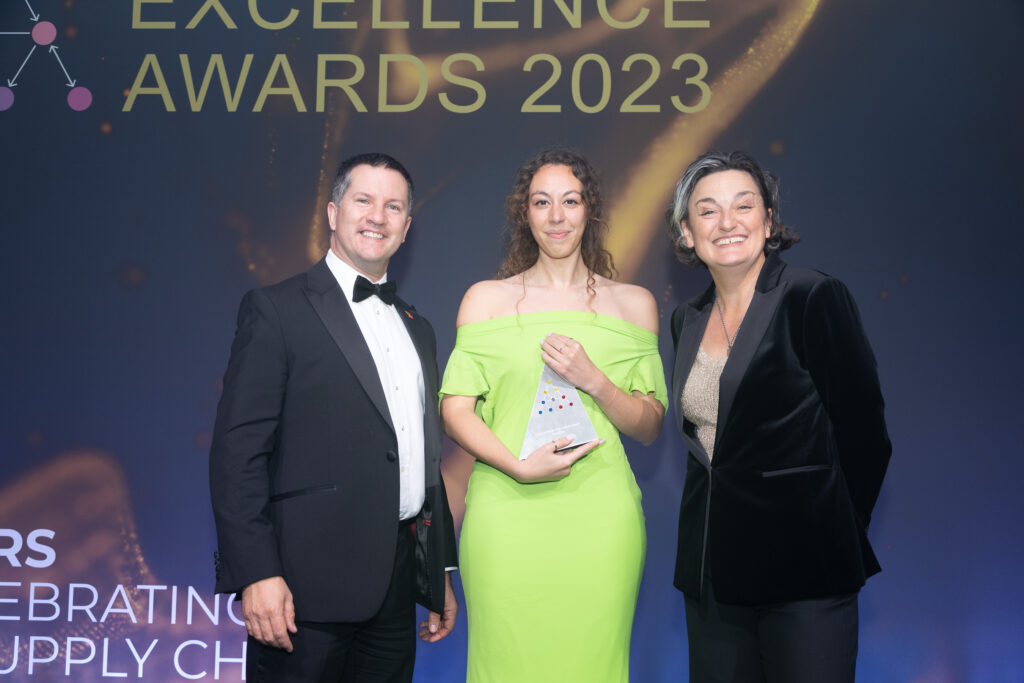 Judges said the cloud-based NARA software is a true game-changer in the world of video telematics because it will help save time, costs and – most importantly – lives.
Simon Marsh, CEO of VisionTrack: "We are continually pushing the boundaries of what is possible. Our vision – to create a world where all road-users are kept safe from harm – is driving us to embrace the latest advances in machine learning, AI and computer vision."
VisionTrack beat off competition in this category – which recognised companies and partners leveraging technological innovation to manage multiple forms of transport in more efficient, resilient and sustainable ways – from EY Global Services and Zeelo.
The final transport-based category – the Clean Transport Award, went to trucking company Nicholls Transport for its many considerable contributions and efforts to developing sustainable transport solutions and reducing carbon emissions.
Open to vehicle manufacturers, end-user brands and technology provide, this category recognised projects that had implemented environmental policies and technology focused on sustainable business practices
In the case of the winner, Nicholls Transport has not only implemented an on-site water recycling system at its Kent-based facility that is capable of harvesting rainwater to run its truck wash, but the company also planted more than 5,000 shrubs and trees around the site.
Furthermore, renewable energy is sourced from photovoltaic cells installed onto the roof during the building's construction a decade prior, which powers 80% of the site's operational needs. 
Judges were also impressed with the growth of the company's green fleet. Having purchased its first LNG trucks in 2019 and installed the only LNG refuelling station in the South East at its site in Sittingbourne, today Nicholls Transport's fleet of 6×2, 44-tonne load LNG trucks numbers 41 units and the company has achieved an incredible 191% savings on GHG emissions compared to its previous diesel trucks.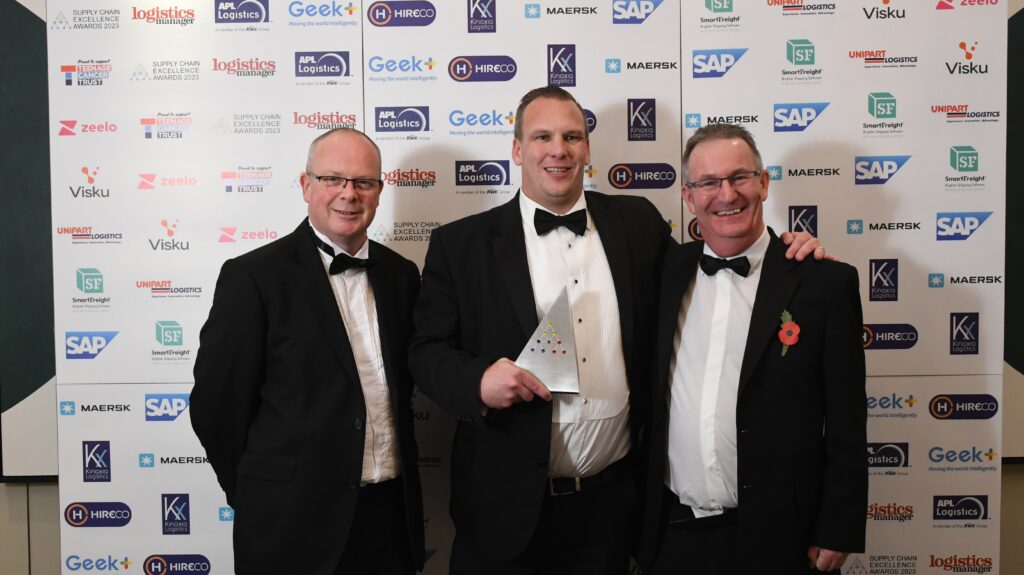 Overall, the judges said they were inspired by Nicholls Transport's exemplarily commitment to creating a truly environmentally sustainable business model.
Rob Gearing, head of commercial and business development, said: "We can't believe it, we were competing against the big boys so it's a brilliant feeling. The fact that we were able to introduce vehicles and deliveries that are saving 191% on carbon emissions compared to what everyone else is doing. It's brilliant." 
Other entries shortlisted in this hotly contested category included Cartken and DPD UK, Coca-Cola Europacific Partners and Maritime Transport, Evri, Jaguar Land Rover and DHL Supply Chain, Prohire, Zeelo and Zeus. 
To learn more about the Supply Chain Excellence Awards and to see the full list of this year's winners, as well as those shortlisted, please visit www.supplychainexcellenceawards.com