XPO, a global provider of freight transportation services, has announced that Simon Evans, finance director for the UK and Ireland, will be a featured speaker at the IntraLogisteX 2023 exhibition at the NEC in Birmingham.
Organised by Akabo Media, publisher of CiTTi Magazine, IntraLogisteX is the UK's premier materials handling and intralogistics event and a must-attend for logistics and freight transportation professionals.
Co-located for the first time ever with fellow Akabo Media exhibition, Robotics and Automation, both events will welcome nearly 200 exhibitors and between 3,000-4,000 visitors.
Taking place on 28-29 March, IntraLogisteX 2023 will also feature the IntraLogisteX Keynote Theatre Conference, where XPO's Evans will discuss 'reducing costs and the inclusion of transport solutions within the logistics industry' on 28 March at 10:40am.
As part of his presentation, Evans will share XPO's roadmap to decarbonisation by 2050, including the use of hydrogen biofuel and electric vehicles to reduce environmental impact, as well as the company's initiatives for energy efficiency, digitisation and waste reduction in its distribution operations.
As attendees to IntraLogisteX 2023 will discover, XPO provides a variety of transport services across a range of consumer, trade and industrial sectors in Europe, including technology-enabled truckload, less-than-truckload, truck brokerage, managed transport, last mile and freight forwarding.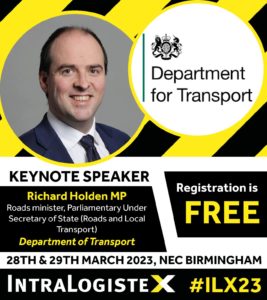 The IntraLogisteX Keynote Theatre Conference will feature a total of 20 industry-leading speakers offering visitors practical insight on technological innovations, delivered by seasoned practitioners ready to share invaluable advice.
Richard Holden MP, Parliamentary Under Secretary of State (Roads and Local Transport) at the UK Department for Transport (DfT), will officially open the IntraLogisteX Keynote Theatre Conference at 10:00 on 28 March with a special keynote opening address.
Richard Holden was appointed Parliamentary Under Secretary of State at the DfT on 28 October 2022 and was elected as the MP for North West Durham in 2019.
Mr Holden's responsibilities include the future of freight, haulage, roads and motoring, and more.
IntraLogisteX 2023 takes place on 28-29 March at the NEC Birmingham. Click here to register for your free visitor pass, which also includes access to Robotics and Automation 2023.