Logistics company DHL has announced the start of a trial of the EAV e-cargo bikes for its small-item home delivery service.
Operating in Edinburgh, the e-cargo bike will deliver items that do not require two-person services but still require special handling. Current plans will see the vehicle make around seven to eight drops a day, carrying around four items at a time.
According to DHL, the Scottish capital was selected as it features a mix of terrains and the size of the city provides the ideal environment to test the bike as part of its last-mile fleet.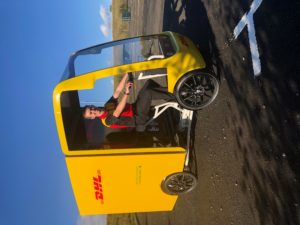 Natalie Frow, vice president operations – home delivery at DHL Supply Chain, said: "With ambitious sustainability targets to hit, we're always looking for new ways to structure the mix of our fleet to reduce overall emissions.
"The EAV e-cargo bike has the potential to transform the way we make many home deliveries, not just in the urban environment but across the country, so we're looking forward to seeing the results of the trial."
Manufactured by EAV, the new bike has a load capacity of two cubic metres and a range of around 40 miles on a single charge. The e-cargo bikes have been specifically designed for urban environments, and are described as  zero-emissions, reliable, as well as easy and cheap to operate.
Leo Bethell, head of partnerships at EAV, said: "It's pivotal for the logistics industry to adapt to the changing urban environment, by embracing transport that is clean, efficient and unsusceptible to congestion. DHL has the opportunity to positively disrupt legacy operational models, while hitting its sustainability targets, with our zero emissions, lightweight vehicles. We're looking forward to demonstrating the value of the EAV 2Cubed in Edinburgh and hopefully developing our partnership with DHL.
Last year DHL Supply Chain launched the UK's first operational fully-electric 16-tonne truck, serving customers in London's West End shopping district. In October, the company expanded its electric vans fleet across Glasgow, Leeds, Manchester, Leicester, Bristol and Southampton.