Vok Bikes, an electric cargo bike provider, and Stuart Delivery, a tech logistics company specialising in same-day delivery, have partnered to introduce a new on-demand mobility solution to London's rapid delivery sector.
The companies, which between them operate across 30 UK cities, have agreed to offer couriers on the Stuart platform use of Vok's electric cargo bikes through a short-term rental model, with no prior financial commitment needed.
Vok said its unique bike design provides couriers with built-in cargo compartments that allow them to conveniently deliver multiple orders at once. The bikes are also designed to be weather resistant making it easier to navigate tricky conditions. By offering on-demand bike rental in major urban hubs, Vok bikes work to improve the accessibility and efficiency of courier work.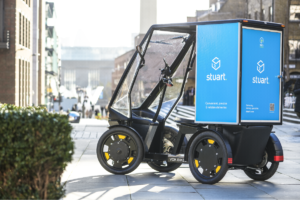 Furthermore, Stuart's courier community will be able to take advantage of Vok's short-term rental model and make fast, low- emission deliveries. The bikes are now available to couriers in Croydon and the surrounding areas of South London. The collaboration expects to expand across London by the end of 2022.
Julien Weyl, head of sustainability of Stuart, UK said: "Accelerating the transition to low emission vehicles is crucial to reducing our emissions, however couriers on our platform own their own vehicles and are often constrained in their ability to switch to using electric vehicles.
"Through partnerships with companies equally committed to sustainable mobility like Vok, we are able to combat this barrier and make it easier for couriers to do so. This will not only contribute to lowering Stuart company emissions but also enable couriers to reduce their own personal carbon footprints too."
In addition to partnering with sustainable mobility providers like Vok, Stuart added it is also building relationships with charging infrastructure providers, as well as financial partners to incentivise and support couriers' transition process to EVs.  According to Vok's research, EVs have proved a 40% higher cost-efficiency compared to deliveries by car.