Royal Mail and its partners have launched an inter-island mail delivery service between three islands in Orkney using fully-electric drones.
Named the I-Port project, the service will initially operate for three months before being assessed for renewal.
The pilot is one of nine logistics-related projects to be have received funding from the Department for Transport's (DfT) Freight Innovation Fund (FIF), with Skyports receiving a grant of £150,000 to test the Orkney I-Port operation as a part of the programme.
Royal Mail said that this is the first UK drone delivery project "which can be conducted on a permanent basis under existing regulatory frameworks".
It is hoped that drone technology will be able to provide a more reliable delivery service for the islands' residents, as pauses in the ferry schedule can disrupt the current system and lead to longer delivery times.
Chris Paxton, head of drone trials at Royal Mail, said: "We are proud to be working with Skyports to deliver via drone to some of the more remote communities that we serve in the UK.
"Using a fully-electric drone supports Royal Mail's continued drive to reduce emissions associated with our operations, whilst connecting the island communities we deliver to."
Once letters and parcels have arrived at Stromness from Royal Mail's delivery office in Kirkwall, UAVs will transport them to Royal Mail staff on Graemsay and Hoy, who will then deliver them to their intended destinations on the islands.
The operation will be carried out with a model of drone called the Speedbird Aero DLV-2, which is reportedly capable of carrying payloads of up to 6kg and making 8km round trips on a single charge.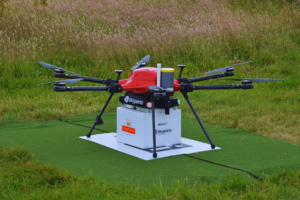 The project has attracted the attention of local politicians; Alistair Carmichael, MP for Orkney and Shetland, added: "I was glad to attend the drone tests and see their development for myself. Obviously these schemes are still at trial stage and so we should temper our expectations.
"Even so, anything that helps to maintain the universal service, especially in areas of the isles which are more difficult to reach, is something that we should give a chance to support. Royal Mail remains a critical part of keeping the isles connected – and local knowledge and care are vital to that network."
The trial is the result of a partnership between Royal Mail, Skyports Drone Services, Orkney Islands Council Harbour Authority and Loganair.