A six-month micro-logistics hub trial has been launched in the London Borough of Wandsworth by non-profit organisation and CiTTi Awards 2023 finalist Cross River Partnership (CRP).
The trial will run for six months at the Southside Shopping Centre car park until February 2024.
The initiative is funded by CRP's Clean Air Logistics for London and Smarter Greener Logistics programmes.
Also funded by the UK Department for Environment, Food & Rural Agriculture, the trial supports low-emission last-mile deliveries in Wandsworth and surrounding areas, including Richmond upon Thames and Merton.
Cllr Judi Gasser, cabinet member for environment, Wandsworth Council, said: "We are determined to clean up Wandsworth's air and reduce carbon emissions, so we are delighted to be part of this trial.
"Our new Air Quality Action Plan sets ambitious targets to clean up the air, improve people's health and tackle climate change.
"The Micro Logistics Hub will enable more businesses to switch to low emission last-mile deliveries and help us meet these targets."
According to CRP, it is expected that the hub trial will achieve similar emissions savings as its previous trial in Pimlico.
After four months of operations, e-cargo bikes operating from the Pimlico hub travelled 9,377km (5,826.5 miles), which led to a total emissions reduction of 1,613kg of CO2, 6,388g of NOx, and 105g of PM2.5, when compared to polluting van deliveries.
CRP said it will share key insights from the Wandsworth trial every month and summarise all learnings in a comprehensive report after the trial finishes.
READ MORE: Report calls for improved working conditions for cargo bike riders
The Wandsworth hub was created by sustainable logistics company Decarbon Logistics Solutions in partnership with another CiTTi Awards 2023 finalist, APCOA Parking, at the Southside Shopping Centre car park.
The APCOA car park has 24/7 access, security patrols, CCTV, 4G WiFi signal, power supply and welfare facilities.
Fellow CiTTi Awards 2023 finalist and sustainable final-mile courier Delivery Mates will operate daily from the 900ft² hub, extending its same-day, next-day and on-demand parcel delivery service to residents and businesses.
Parcels will be received into the hub from an electric delivery vehicle before being sorted into delivery routes, loaded and distributed by e-cargo bikes in the area.
Paul McCormack, CEO, Decarbon Logistics Solutions, said: "This site at Wandsworth is another great example of how we can repurpose existing real estate for final-mile logistics and benefit the local community.
"Customers are provided the same quality delivery services but using only walkers, cargo bikes or electric vehicles."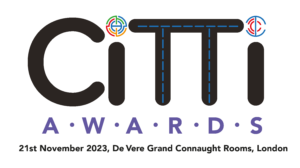 Innovations and achievements in urban logistics  and clean air will be highlighted and celebrated at the second annual CiTTi Awards on 21 November 2023 at the De Vere Grand Connaught Rooms in London. Visit www.cittiawards.co.uk to learn more about this unmissable event for the UK's transportation sector – and to book your table today!