The City of Minneapolis has launched a mobility hub pilot programme to increase access to convenient, low- or no-carbon transportation options, including transit, shared scooters and Nice Ride bicycles – the local area's bike-sharing service.
The three-month pilot programme will inform a long-term plan to implement a larger mobility hub network in Minneapolis. The city has collaborated with Metro Transit, Hennepin County, mobility service providers and neighbourhood organisations on the pilot.
Ambassadors from the city and partner organisations will be at the mobility hubs at select times to collect feedback and provide education on the transportation options. The hubs will be marked with a Go sign and feature street furniture, such as benches and wayfinding signs to points of interest, bus stops, and parking for bikes and scooters.
The initial pilot programme will create a total of 12 hubs: four were unveiled in north Minneapolis in September; four will be unveiled in south Minneapolis this month; and the final four will be live in northeast Minneapolis starting in November. Other hubs will be established next year.
Currently, just 13% of people in Minneapolis take public transportation to their jobs, according to 2018 data from the US Census Bureau's American Community Survey. About 7% walk to work, 3% ride a bike and 2% use other means, such as scooters, the survey found.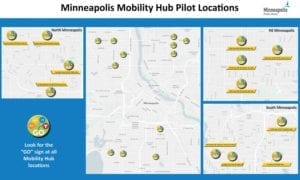 Josh Johnson, advanced mobility manager for the City of Minneapolis, said: "European cities are well on their way, much further than the USA is, on this concept of mobility hubs.
"This pilot is all about how we can help people to change their thinking about how they currently move — whether that's a personal car or some other means — and start thinking about what we have available at these mobility hubs that can make their trip more efficient, easier, more comfortable and how we can supplement the modes they're using."
The city's mobility hub pilot programme is supported by the city's participation in the Bloomberg Philanthropies' American Cities Climate Challenge, a two-year programme that provides cities new resources to tackle carbon reduction goals.
Lessons learned from both pilot programmes will inform work on the Minneapolis Transportation Action Plan, which is a 10-year plan to implement the transportation visions outlined in the Minneapolis 2040 Comprehensive Plan slated to take effect this Autumn.
Specifically, the city aims to decrease vehicle trips by 37% to reduce emissions by 80% by 2050.