Transport for London (TfL) has shared details of its £2.9bn upgrade of the Piccadilly Line.
Accounting for more than 10% of all journeys on the London Underground, the Piccadilly line's 200 million annual passengers will ride between destinations across north and west London on a fleet of all-new trains from 2025.  
Working in partnership with Siemens Mobility, TfL will replace 86 trains with 94 new models, increasing the number of trains through central London from 24 to 27 trains an hour and every 135 seconds during peak times.  
These will replace the line's existing trains, which have been serving London since 1975, and feature: 
Walk-through carriages

 

Air-conditioning – for the first time on a deep tube train

 

Wider all-double doorways to help customers get on and off more easily

 

Enhanced digital display screens for customer information

 

Improved step-free access from/onto the platform

 

On-train CCTV cameras for additional customer security

 
The new models will be longer than current trains, reduce energy consumption by 20% and support decarbonisation. 
The number of passengers carried across the entire line will increase by up to 23% during peak times, helping to make the service faster, more efficient and frequent. 
New CCTV cameras in stations, power system upgrades and tracks and trackside equipment will also be installed. Signalling system modifications will also be made to accommodate the new, longer trains.
READ MORE: Costain to design Piccadilly line signalling upgrades
TfL, in partnership with the UK Department for Transport, will also install new cooling systems while lightweight, modular platform humps or manual boarding ramps that improve accessibility will be added to Piccadilly line stations.
In October, TfL awarded British infrastructure contractor Balfour Beatty a £43m contract for electrical works to boost the performance of the Piccadilly Line.
Balfour will design, supply and install assets at Hatton Cross and Hounslow substations to support an increase in the subterranean route's traction power.
According to the contractor, this will allow a new generation of underground trains to run on the line, which connects Cockfosters to the north-east of the capital with Heathrow to the south-west.
Balfour will deliver technical assets such as transformer rectifiers, high and low voltage switchboards, direct-current switchboards and auxiliary transformers, as well as associated cable routes.
Power upgrade measures will reportedly allow the new trains to run more frequently at peak times, boosting passenger capacity by more than a fifth.
READ MORE: TRB Lightweight Structures joins Piccadilly line upgrade project
Furthermore, new maintenance facilities will be built at Cockfosters and Northfields depots to maintain the trains with extra stabling track and cleaning facilities.
South Harrow depot has installed extra stabling track so that trains can be quickly brought into use when services start to run more frequently.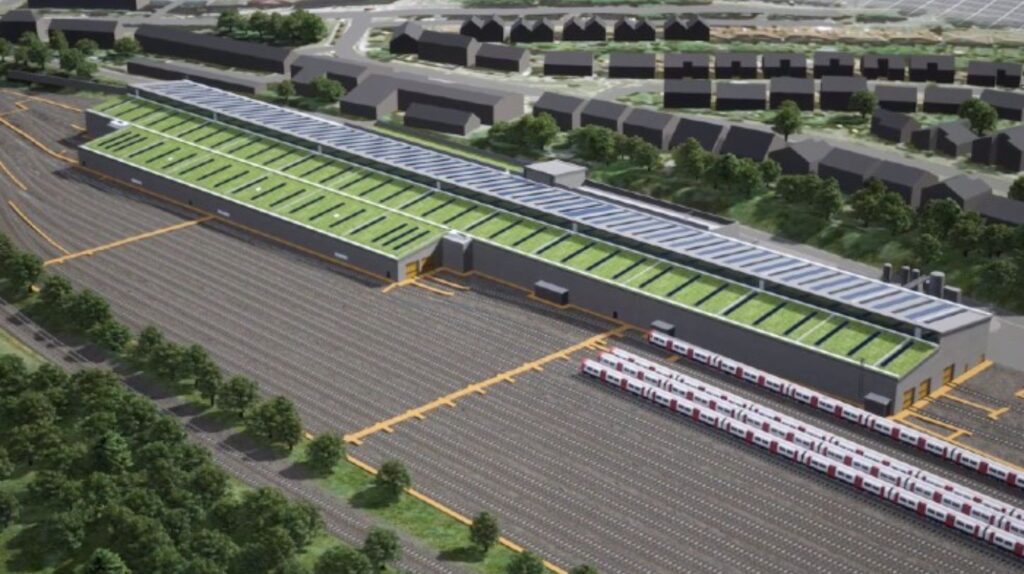 The upgraded depots will feature 'green' roof designs for rainwater harvesting, and storage to provide 'grey' water for depot services and train washing.
What's more, large roof-mounted solar panel arrays will provide low-voltage power supplies for heating and lighting in the depot complex. 
READ MORE: TfL unveils new Piccadilly-line  train design
According to TfL, fully upgrading the line-wide signalling to enable automatic train operation with additional trains would allow for a peak service of up to 36 trains an hour in the central area during peak hours, resulting in a 64% increase in capacity compared to current levels. 
The work will be carried out in stages across the line to ensure passenger disruption is kept to a minimum. 
Innovations and achievements in public transport will be celebrated at the second annual CiTTi Awards on 21 November 2023 at the De Vere Grand Connaught Rooms in London. Visit www.cittiawards.co.uk to learn more about this unmissable event for the UK's transportation sector – and to book your table today!