New research released today [04 November] has revealed that nearly half, 47%, of Plymouth's population live in an area with low accessibility to public transport.
Micromobility firm Dott commission the study, which has found those living in an area with high access to public transport only represents 17% of the city's residents.
According to the operator, as the environmental impact of transport decisions come under increasing scrutiny, close proximity to reliable public transportation is a major factor in encouraging more people to make a sustainable choice.
Dott has recently submitted proposals for a shared e-bike service in the city. Alongside Plymouth's planned 'mobility hubs', the scheme suggests additional 'micro-mobility hubs' to increase accessibility across the whole city. The plan aims to connect suburban areas with the city centre, providing a reliable, safe and efficient way of travelling across Plymouth. It also looks to increase the amount of people within five minutes walk of a transport service.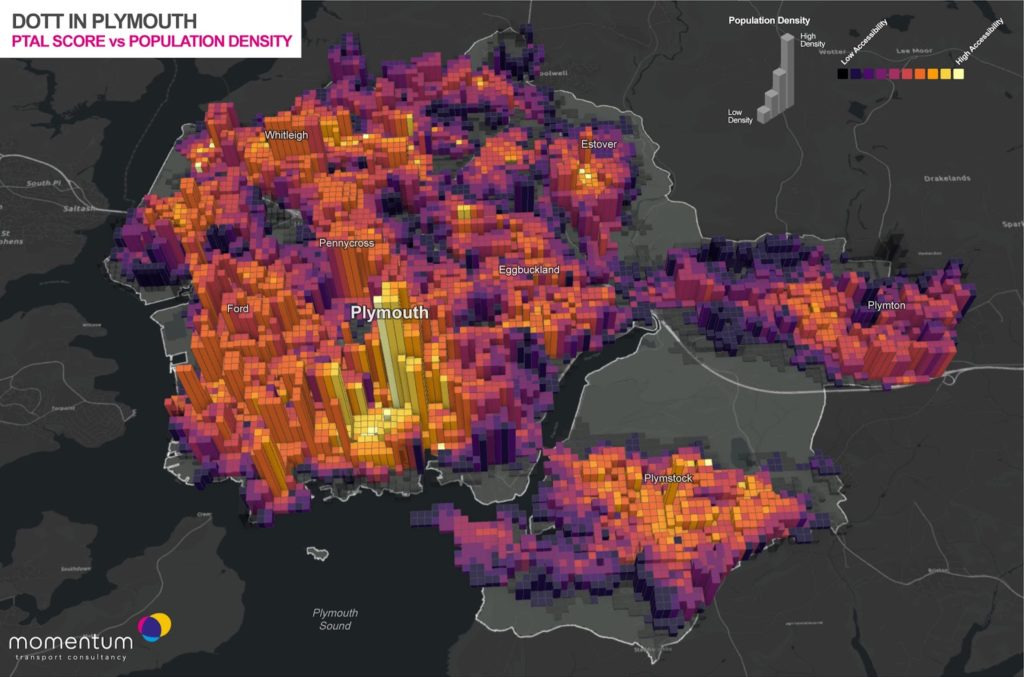 The data analysis, pictured above, was conducted by Momentum Transport Consulting on behalf of Dott. It compared population density with accessibility to public transport. The partnership said the findings demonstrate the benefit that shared e-bike hubs could have on improving connectivity between outer suburbs and the city centre.
Duncan Robertson, general manager UK & Ireland, Dott, said: "We are working to free our cities with clean rides for everyone. We hope to be able to collaborate closely with Plymouth city council to establish a shared e-bike service as part of the mobility hub concept, which would offer residents the most efficient way to travel around their city, reducing reliance on cars and lowering congestion and pollution."