With less than one week to go until Road User Charging Conference 2023, CiTTi Magazine meets Gavin O'Donnell, associate director in advisory and digital services, and global mobility pricing leader at Arup, who will discuss the relationship between decarbonisation, road-user charging and taxation.
Taking place on 07-08 March at the Steigenberger Wiltcher's, Brussels, Road User Charging Conference 2023 will provide the latest insight, case studies and debate on current trends and future challenges that affect senior decision makers who have responsibility for intelligent transportation systems, tolling and road pricing.
This two-day gathering of leading practitioners welcomes delegates from around the world and across sectors to encourage active discussion and peer-to-peer learning.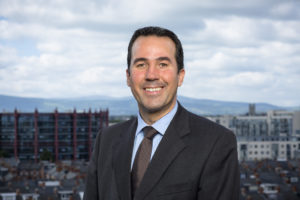 Name: Gavin O'Donnell
Job Role: Associate Director in Advisory and Digital Services, and Global Mobility Pricing Leader
Organisation: Arup
What is the best thing about your job?
Collaborating to shape and deliver solutions to increasingly complex and important transport challenges around the world.
What is the biggest challenge facing those with responsibility for intelligent transportation systems and tolling/road pricing in 2023?
Gaining political and public acceptance to schemes that incentivise new travel patterns and/or change conventional means of generating revenue.
What's your best piece of advice for those looking to implement road-user charging or tolling solutions?
Target clear objectives for your scheme, focus on the benefits to citizens and road users, and collaborate with key stakeholders at the earliest opportunity.
Does legislation help or hinder development in the sector?
Legislation can be essential where a mandate is needed to provide clarity of purpose for delivery agencies, but changes to legislation can also take time and, if not implemented elegantly, can result in confusion and delay.
How will the business of road-user charging/tolling have changed by 2030?
We will see a continued increase in the use of mobility pricing solutions to address a combination of more traditional and emerging transport problems within, around and between our cities. An increasing focus on road users as customers will drive improved communications, more integration of systems and better services.
Why are you looking forward to speaking at Road User Charging Conference 2023?
This is a great event to connect with a wide range of professionals working across the industry, to prompt discussion, share different perspectives and gain new insights.
This year, the Road User Charging Conference turns 20 years old! Why are events like this so important to the industry?
This event provides a focused platform for all organisations and professionals interested in mobility pricing to share knowledge, learn from each other's innovations and develop relationships. This builds confidence, awareness and better access to support, in turn helping to deliver more successful schemes around the world. As a global industry, it is great to see the conference expanding into the USA, which will drive even more collaboration and knowledge sharing.
You can learn more about the key trends and challenges affecting senior decision-makers who have responsibility for tolling, intelligent transportation systems and road pricing across the world at the 20th annual Road User Charging Conference in Brussels, Belgium on 07-08 March 2023. Click here for more information.