Brisbane was the first Australian city to accept rideshare e-scooters. After some growing pains, residents, visitors and the city itself are enjoying the benefits, a new study finds…
Five years after being the first Australian city to introduce rideshare e-scooters, Brisbane is leading the way after many growing pains and a lot of learning.
Our latest research explored tourists' and residents' perceptions and experiences of the city. We surveyed both users and non-users of e-scooters and e-bikes in a first-of-its-kind study. We received nearly 1,000 responses, with 29 follow-up interviews.
Cities around the world are making micromobility, such as e-scooters and e-bikes, part of their transport plans. They hope to reap the widely proven benefits of encouraging active transport such as walking and cycling, reducing car trips and traffic congestion, cutting greenhouse gas emissions, improving access throughout cities and promoting residents' overall wellbeing.
Still, micromobility is very much up for public debate. With more and more tourists using rideshare bikes and scooters and some cities banning them, important questions have been overlooked. How do these devices shape visitor experiences and a city's image? How do residents view their use? And, what do non-users think?
Well, we found out. In Brisbane, these new forms of transport are being seen in an increasingly positive light as alternatives to private cars, public transport and ridershare services. Comparable to when cars replaced horses, micromobility options offer a convenient and improved transport experience that showcases the best parts of the city.
Have you noticed in all the culture wars between Melbourne v Sydney, Brisbane just lurks quietly in the background knowing they have outsmarted both cities. Cannot believe no. of people on bikes, scooters and segways pic.twitter.com/IfzI6H4oP7

— Kylie Parker (@KylieParkerCA) May 25, 2023
Micromobility services are good for a city's image
When tourists arrive in a new city, they face a common challenge: where to go, what to see and, more importantly, how to get there?
Public transport is considered too stressful, confusing and at times unpleasant. Rideshare cars and taxis are easy and familiar, but they don't provide an experience and miss out on the nooks and crannies of a destination.
A clear majority of the visitors in our study (83% users, 42% non-users) agreed e-scooters and e-bikes enhanced their tourism experience and their view of the city. This was because these forms of transport greatly increased the places they were able to see and experience. As a result, they regarded Brisbane as an active, modern city.
For many, riding e-escooters was itself one of the best aspects of visiting the city.
One tourist told us: "Having an opportunity to use e-scooters while we visit Brisbane allows us to take in the beautiful environment that we would normally miss in a taxi or Uber. An e-scooter or e-bike easily gets you to places you might miss if using a taxi or Uber."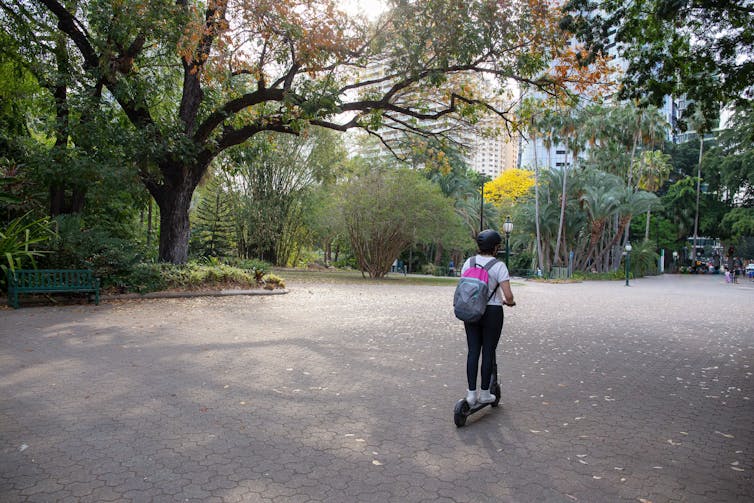 Another tourist said: "I really enjoyed using it [an e-scooter]. It was a highlight of our trip actually."
Common reasons for such positive views included: accessibility, convenience, sustainability, independence, novelty, spontaneity, maintaining a healthy lifestyle, being outside, sense of community and ease of use.
Similarly, non-user visitors largely view e-scooters as a benefit to the city. They see them as good for its image and/or are indifferent but see the appeal for others.
One tourist, a non-user of e-scooters, said: "I'd say right now, I don't think it's giving a bad image at all. On the contrary, I feel it gives an image of providing alternatives to cars."
Brisbane's robust cycling infrastructure, referred to as "scooter highway" by study participants, was a factor in these positive views for all groups.
Another non-user tourist said: "I feel like most people are generally responsible about riding them, and not in the middle of the sidewalk. I would say they're a good resource for sure."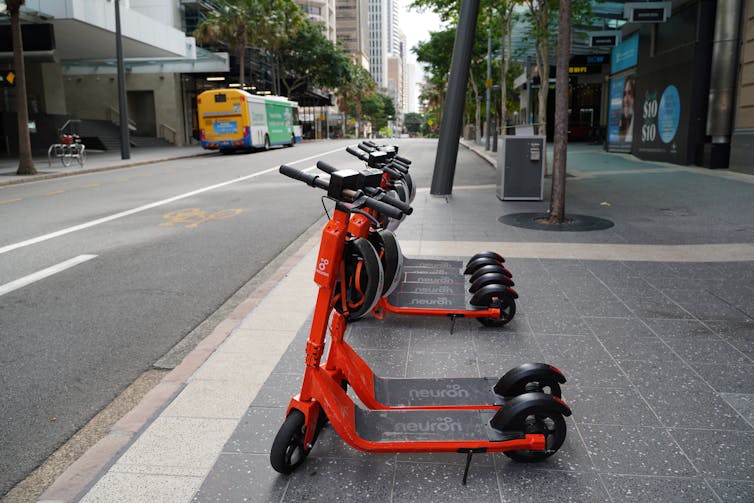 How do tourist and resident riders' views differ?
We asked both tourists and residents for their views. All groups largely viewed e-scooters and e-bikes as alternatives to public transport rather than a supplement. Only a minority used e-scooters in combination with public transport.
Visitors to Brisbane who were not familiar with the public transport system found micromobility options incredibly useful. They were able to explore more attractions more quickly using e-scooters and e-bikes, without the hassle of buying travel cards and working out public transport timetables.
For visitors, micromobility itself is a tourism experience comparable to traditional attractions such as shopping and landmarks. For residents, it's a convenient, independent, reliable and efficient way to commute, run errands, or go out and meet friends for dinner.
So much fun cruising beautiful #Brisbane at night on an electric scooter. pic.twitter.com/1PICCU3mjM

— Jet Ski Bandit (@fulovitboss) August 23, 2021
What about non-users?
We found differences between users and non-users. Users have overwhelmingly positive views (74%) of the benefits for themselves and others. Non-users either see the benefits to others, or are sceptical and worried about safety.
However, most non-users (65%) still viewed shared e-scooters and e-bikes as a public resource. Only a minority (35%) saw them as a nuisance.
So, what's stopping more people using them? Commonly cited barriers included:
safety concerns
not knowing how to ride
expensive
self-image – not seeing themselves as e-scooter/e-bike riders
lack of cycling-friendly infrastructure in some areas
post-COVID hygiene concerns
Micromobility is gaining ground
The results of our study are clear: micromobility is a win for urban transport and tourism. Visitors and residents who are able and willing to use e-scooters and e-bikes are rewarded with a better way to get around and experience all the city has to offer. Users have strongly positive views of these transport modes and the general city impact.
Efforts to improve safety and access, by lowering personal barriers, would likely improve perceptions of micromobility and of the city. Further innovations in e-scooter design, supported by education campaigns, complementary infrastructure and policy, are likely to lead to greater uptake and more positive views.

This article was authored by Richard Buning, senior lecturer in tourism, school of business, University of Queensland and Wendy Pham, post-doctoral researcher, business school, University of Queensland. This article is republished from The Conversation under a Creative Commons license. Read the original article.