How a Mobility-as-a-Service smartphone app developed by Hitachi Rail, the Municipality of Genoa and AMT, the Italian city's public transport operator, is persuading people to leave their cars at home. Words by David Smith…
Genoa, a spectacular coastal city in Northern Italy, has an incredibly complex multimodal transport system. To navigate its maze of medieval streets, coastal areas and steep hills, the city operates seven types of transportation, buses and trolleybuses, cable cars, public lifts, the metro, tourist railways, ferries, and rack railways. At AMT Genova (Azienda Mobilità e Trasporti), the agency that runs the city's public transport, they are fond of saying that "if it works in Genoa it will work anywhere".
The complexity of Genoa's transportation network made it the ideal testing ground for an innovative and unique Mobility-as-a-Service (MaaS) smartphone app jointly developed by Hitachi Rail and AMT, known as GoGoGe. The app was trialled initially for six months starting on 09 May 2022 by 1,000 volunteers. The trial was then extended for a further six months with 1,500 users. The experiment was considered a success and the municipality is expected to announce soon that GoGoGe will be available for everyone to use later this year.
"MaaS projects like GoGoGe always begin with experimental trials that have a narrow focus," says Enrico Buzzo, AMT's head of innovation. "In Genoa, we needed to test the various technologies and we had to gather a lot of feedback from the users before we could move forward. One year is already a significant period for gathering data. The transport companies have good insights into travellers' habits and preferences. And we'll get more data when the project goes city-wide."
Magic in the air
The most original feature of the app is that it operates 'handsfree'. What this means in practice is that users simply switch on Bluetooth, start the app and tap the 'Activate Ticket' button. The app continues to work automatically so long as it is kept in a pocket or bag. It also has a feature displaying the levels of congestion on a bus or the metro. Passengers travel by whatever means they wish using the Be-In-Be-Out (BIBO) ticketing system and the cheapest fare is billed the next morning after comparing the prices of single tickets or the daily pass. Weekly options are now available.
Hands-free automation is made possible by the installation of more than 7,000 Bluetooth sensors called 'beacons'. They have been placed inside metro stations, at bus stops and on trains. The white beacon is 10cm2 in size, making it easy to conceal. When passengers using the app approach the beacons, they record data such as the date, time, route and vehicle.
"There's barely any maintenance," says Barbara Ferrari, Hitachi Rail's central Europe area manager. "It doesn't require costly infrastructure such as ticket vending machines or ticket barriers. They're easy to install and the batteries last for a minimum of five years."
The sensors connect to 663 buses, 2,500 bus stops, the metro line used by 15 million people a year, two funiculars, one historic hillside railway, 10 public lifts and two suburban bus routes that span 50km (31 miles). The platform creates a real-time digital twin of the region's transport and passengers' end-to-end multimodal journeys.
"Hitachi Rail developed this innovative approach after years of studies in Japan and some trials in smaller Italian cities such as Trento," says Ferrari. "The unique aspect is it traces the precise journeys taken by passengers, which is useful for operators who want to optimise services, timetables and cater for peaks and troughs in demand. It identifies congestion, emissions, crowding or gaps in services. Even with ticket gates, you can know numbers and where they get off, but you can't track precise journeys. For passengers, the app tells them precisely where they are at any moment and when their journey has ended."
Mix and MaaS
One of the most innovative MaaS project in the UK involving a smartphone app is being run by the South East of Scotland Transport Partnership (SEStran). South East Scotland includes about a quarter of Scotland's population and includes the city of Edinburgh, Clackmannanshire, East Lothian, Falkirk, Fife, Midlothian, Scottish Borders and West Lothian.

SEStran has developed an app, which is in its pilot phase, that informs travellers about the most sustainable transport choices available. The app shows how long each one takes, the likely cost, and the predicted CO2 emissions. The aim of the pilot is to test the demand for the service from passengers and transport operators.

Funded through Transport Scotland's MaaS Investment Fund, the free app – 'GoSEStran' – allow users to plan, book and pay for journeys by different transport modes. The main options are rail, bus and taxi. But the app has also integrated local initiatives such as taxis, community transport, bike schemes, car clubs and journey hubs.

There is also a new demand-responsive transport bus service integrated into the GoSEStran app. The new bus service is run by Prentice of Haddington Coaches and does not run to a set timetable. Instead, it offers a more flexible service to suit the needs of the users and is in partnership with The Routing Company.

The GoSEStran MaaS project is a collaboration led by SEStran and involving Fuse Mobility, Tactran and East Lothian Council. It builds on both East Lothian's physical Journey Hub infrastructure, which groups different modes of transport, and Tactran's Enable project, which developed similar journey planning apps in Tayside.
Covid-19 response
Development began in 2021 when Covid-19 was spreading fast and passenger numbers were plummeting. Many travellers switched to driving private cars. AMT contacted Hitachi Rail about finding a solution to encourage more public transport use. After lots of discussions, the project team came up with the idea of making all means of transportation available on a single app.
It then took months to decide the best locations for the beacons with repeated nightly experiments at stations and bus terminals. Meanwhile, there were intense debates as the operators disagreed about what features to include. Some wanted Level 2 MaaS integration (integration of booking and payments), whereas others wanted only Level 1 (integration of information).
Eventually, agreements were reached, and the first six-month Proof-of-Concept began on 09 May 2022 with 1,000 users. Students and regular users with monthly tickets were excluded. Otherwise, anyone was free to sign up.
In December 2022, the trial was extended for another six months with 1,500 users. In the second period, Hitachi Rail added non-public transportation means, such as electric car sharing, electric scooters, two rail lines outside Genoa, and parking. Later, it became possible to purchase rail tickets throughout Italy with Trenitalia. For now, these additional private services are not included in the caps for daily fares, but they could be in the future following more discussions with the operators.
"The end goal for the city of Genoa is to meet our sustainability goals by persuading people to leave their cars at home, so the integration of car sharing and parking was important," says Buzzo. "Electric scooters are an integral part of helping people to travel around a city that is narrow and difficult to navigate. Because the climate is so good, it is the Italian city with the most two-wheeled vehicles per capita."
Easy riders
Feedback from the trials, which ended in early May, has been positive. Users commented on how easy it was to make payments and the convenience of hands-free ticketing. They said they had been encouraged to visit unknown parts of the city. The congestion function, available on some lines, was especially valuable during the Covid-19 epidemic.
"It gave people a choice to take the first bus, which was more crowded, or grab a coffee and wait for the next quieter one. So, the pandemic helped to accelerate solutions that make journeys more secure and accessible," says Ferrari.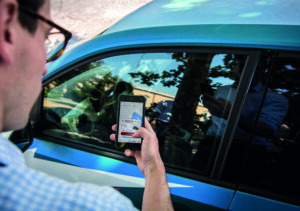 The emphasis on innovation and sustainability shown in the development of the app is characteristic of the city of Genoa, according to Ilaria Gavuglio, President of AMT. Of the city's seven public means of transportation, five have been electric from the start and the intention is to make the remaining two fully electric. "Where the distances are greater, such
as in the mountains, we are experimenting with other power sources such as water and LNG," she says.
AMT is supporting the city to develop projects that tend toward electrification, including the '4 Axis of Strength' trolleybus system that will stretch for 96km (60 miles) east to west and be used by 145 trolleybuses and electric buses. Meanwhile, the Skymetro will extend the metro lines outside the city.
"Innovation is key in Genoa because it's such a complicated place. We want citizens to be able to create tailor-made journeys. We want transport to be not just integrated but integrated in a way that benefits populations socially. We're evolving from MaaS to MaaC [Mobility-as-a-Community], which is about valorising human connections and community," Gavuglio says.
Although Hitachi Rail developed the GoGoGe smart ticketing app in Genoa, it has ambitions to take it to many other cities under the different name 360Pass. Supporting the function is the 360Motion platform, which is the analytics later allowing centralisation of data from the suite of 360 apps and creation of the digital twin of the entire network.
The app would work well in any city with multiple modes of transportation, says Ferrari. "It's a very flexible and scalable solution. Other cities could use the same system with the beacons and the BIBO ticketing system. They would just need to carry out the same negotiations with transportation companies as the city of Genoa about what modalities to include and the level of integration," she continues.
"In Genoa, there's a real drive to move forward with the app. We don't just want to create something that only appears 'on slides' and is talked about at transport conferences. We want to develop a real practical solution," Ferrari says.
This article was first published in the June 2023 issue of CiTTi Magazine. Read the original article.