Some 25 transportation leaders will judge the 2023 CiTTi Awards – with more still to be confirmed!
The judges already committed to evaluating this year's shortlisted entries include some of the UK's foremost experts from across the country's transportation industry.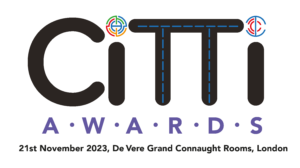 "Their expertise and pedigree in the sector is unrivalled, and their years of service to the industry leaves them perfectly positioned to identify the cream of the crop of this year's shortlisted entries," said John Thornton, editor of CiTTi Magazine, which organises the CiTTi Awards.
The deadline for entries is August 21. Shortlisted entrants will be invited to make presentations to the judges in early October.
The winners will then be publicly revealed at a dazzling ceremony on 21 November 2023 at the De Vere Grand Connaught Rooms in central London and be attended by 200-300 UK transport professionals.
Now in its second year, the CiTTi Awards has grown since the event was launched in 2022 and is fast becoming the benchmark for best practice in safe, sustainable and efficient urban mobility.
Winners of the inaugural CiTTi Awards included public-sector organisations such as Hackney Council, Oxfordshire County Council and Leeds City Council, urban logistics companies such as Evri, DPD and Kuehne+Nagel, and technology providers such as Via, Beryl and Marston Holdings.
Marston Holdings has also been confirmed as the official sponsor of the 'Road Safety Award' category for the 2023 CiTTi Awards.
The confirmed judges include:
Alan Benson MBE, Transport Accessibility Activist and Campaigner
Andrew Wescott, Director of Sustainability and Regulation, Addison Lee
Ashley Feldman, Programme Manager, techUK
Catherine Marris, Head of Innovation, Motability
Chris Todd, Director, Transport Action Network
Emily Cherry, Chief Executive, Bikeability Trust
Hannah Budnitz, Research Associate, Transport Studies Unit, University of Oxford
Keith Mortimer, Director, Wyeval Consulting
Lucy Williams, Senior Engagement Manager, Pocklington Trust
James Court, Chief Executive, EVA England
Jason Torrance, Interim Chief Executive, UK100
Jason Prince, Director, Urban Transport Group
Jemima Hartshorn, Founder, Mums for Lungs
John Thornton, Editor, CiTTi Magazine
Rebecca Morris, Head of Communications, RoadPeace
Richard Hebditch, UK Director, Transport & Environment
Rosie Allen, Policy Adviser, Green Alliance
Silviya Barrett, Director of Policy and Research, Campaign for Better Transport
Stephen Edwards, Chief Executive, Living Streets
Steve Gooding, Director, RAC Foundation
Suzy Charman, Executive Director, Road Safety Foundation
Trevor Ellis, Director, Trevor Ellis Consulting
Ursula O'Sullivan-Dale, Editor, Robotics & Automation Magazine
Will Haynes, Infrastructure Director, Sustrans
Zeina Nazer, Co-Founder, Cities Forum
Click here for full details of each of this year's CiTTi Awards judges
Click here for full details of this year's CiTTi Awards categories and how to enter