Micromobility operator Bolt has introduced an e-scooter tandem riding prevention system, which it has patented with the European Patent Office.
Currently live in Berlin, the Tandem Riding Detection system will be added to all Bolt 4 e-scooters. Based on the scooters existing accelerometer, engineers used the same hardware to detect a change in mass, which could indicate if more than a single rider was using the e-scooter.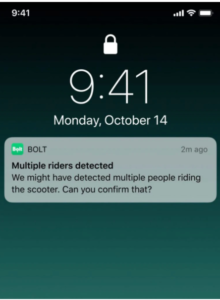 Once the e-scooter detects tandem riding, the user is sent a push notification to the app.
"We are more than micromobility providers. We want to be partners for cities and communities. This is why we have decided to take on the most pressing safety challenges in the scooter industry: tandem riding, drunk riding and skidding," said Dmitri Pivovarov, VP for rentals at Bolt.
"Being taken under consideration for a patent on our tandem riding prevention system is a clear sign that we are on the right path. It also shows that we are leading industry efforts to make scooters safer."
In addition to the tandem riding prevention, the shared mobility firm is also introducing further safety measures.
The cognitive reaction test, designed to combat intoxicated riding, has been launched in 14 cities and is gradually being rolled out across Europe. The app asks the potential rider to react to different instructions on the screen during times when riding under the influence is likely to happen. The test measures the cognitive reaction time before allowing the user to ride a scooter.
Furthermore, the skid braking prevention system is in development and will work to prevent riders from dangerous riding behaviours, such as fast riding and drifting. The system detects when the back wheel of a scooter gets locked due to rapid braking, and the rider is then warned through the app with a push notification. This feature is currently being tested in Berlin.