Mobility as a Service (MaaS) solutions provider Moovit has added Link e-scooters to its service following a new partnership with Superpedestrian.
Commuters, across North America and Europe, can access multiple public and private transit services in the free Moovit app and can find more efficient travel options, that could save them time and reduce the need for a car for first and last-mile options.
Through Moovit's partnership with Superpedestrian, app users will now be able to view in real-time where a Link e-scooter is available nearby and how long it will take to walk there. It will also enable riders to compare Link e-scooter rides with other modes of local transportation in order to select the option which best suits their needs.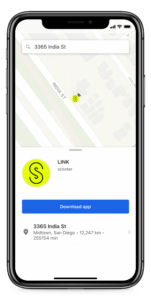 "Shared micromobility is becoming an increasingly integral part of urban transportation systems, especially as a first and last mile solution for public transit users," said Jamie Perkins, director of communications at Superpedestrian.
"It's important to us that scooters are a solution to replace car trips and complement other modes of transit. Collaborating with Moovit is an obvious necessity to ensure riders can choose their best route. Moovit has been a wonderful partner to work with and we look forward to continuing our work to connect communities sustainably, efficiently, and affordably."
Moovit added it aims to simplify urban mobility all around the world, making getting around town via transit easier and additional multi-modal services more convenient. By combining information from public transit operators and authorities with live information from the user community, Moovit aims to offer travellers a real-time picture, including the best route for the journey, service alerts, and get off notifications.
"Offering more alternative options that can easily get people to their destinations is a critical component of a MaaS platform, which is why we are excited about our expansion with Superpedestrian," said Yovav Meydad, chief growth and marketing officer at Moovit.
"The partnership will offer users the ability to travel sustainably, whether for the entire journey or by using Link e-scooters in combination with public transit, furthering our mission to decrease congestion and pollution."