Carsharing company Getaround has announced a global partnership with Mobility-as-a-Service (MaaS) provider Moovit, enabling users in the UK, France, Germany and Belgium to view carsharing options in the Moovit app.
Moovit said the collaboration will provide people with the freedom to choose the most preferred mode of travel in one app, this in turn reduces the need for a private car for short or long-distance journeys.
"Enabling people to find all modes of transport via one app makes getting around much easier and will help shift them from using private cars to instead using public and shared transport services," said Samuel Sed Piazza, director of partnerships at Moovit.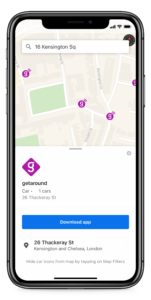 Getaround's digital carsharing solution is designed to eliminate the need to meet anyone in person, carry an access card or coordinate picking up keys.
This contactless rental experience aims to meets the demand for more convenient and cost-effective mobility solutions closer to where people live and work. It has been especially relevant in the context of the Covid-19 pandemic, offering flexibility and peace of mind, according to the operator.
The carshaing services will be added to the Moovit app which already includes urban mobility options like bus, train, metro, ride-hailing, carpooling, e-scooters and bikes.
Simon Baldeyrou, COO of Getaround Europe, added: "Joining forces with Moovit is a huge step forward for the democratisation of carsharing, and makes it even more accessible for millions of people in many key cities.
"Moovit's expertise in guiding people towards the best mobility solutions, combined with our very broad supply and fully connected user experience, empowers city dwellers in their everyday diverse commuting needs."