Road charges for trucks in EU member states are moving from time-based to distance-based charging, following rules adopted by the European Parliament last year. But will the reforms, which aim to incentivise more climate-friendly freight transport, ultimately lead to a simpler, fairer system? Ursula O'Sullivan-Dale reports…
In February 2022, the European Parliament and European Commission announced revisions to Directive 1999/62/EC, known as the Eurovignette Directive, on the charging of heavy goods vehicles (HGVs) for the use of trans-European transport (TEN-T) network roads. The overarching objective of the revision was to encourage a move toward a more unified, distance-based road user charging (RUC) system across the EU bloc and leave behind time-based tolling. The two bodies likewise wanted to incentivise more sustainable freight transport options, especially for vehicles travelling through Europe's main arteries, to support the achievement of certain emissions reduction targets.
Some of the key elements to this revision included the introduction of at least a 50% discount for zero-emission trucks by May 2023 and a caveat that EU member states can petition the introduction of a distance-based system if they see another tolling system as having better revenue-raising potential. In addition, it was outlined that member states could also choose to implement additional charges for heavy-polluting vehicles based on their carbon emissions profile.
The European tolling market has seen limited amounts of technological progression across the last few years, which makes the introduction of this revision significant. Based on the bureaucratic barriers that exist to the implementation of new systems, especially ones that could be interoperable across the EU bloc, simple measures, such as the conventional vignette, have been preferred.
However, some progress has been made toward bringing in a unified system through the European Electronic Tolling Service (EETS), which was brought in to ensure interoperability of tolling across the road network of EU member states. It works by allowing road users to pay tolls or road charges through a single subscription model to one service provider and a single on-board unit (OBU), meaning a road user can access electronic tolling in any participating state. An OBU communicates with tolling infrastructure, sharing information, such as distance travelled and geographical information about roads accessed, to calculate toll revenues.
Another major element of the proposal was the extension of the scope of the Eurovignette Directive to apply not only HGVs but also heavy-duty vehicles (HDVs) and light-duty vehicles (LDVs). This means the directive could be used to encompass charges to passenger cars, minibuses, vans, coaches and buses, for the first time. Due to the wide scope of the revisions, and some of its potentially contentious elements, there is much discussion to be had on what these changes could mean for Europe's tolling market and wider transport network.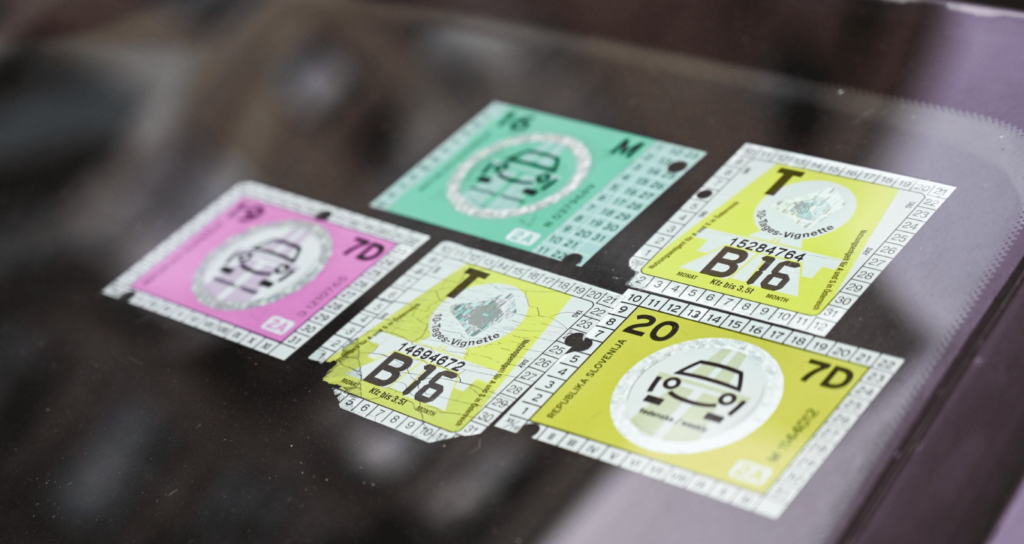 Emissions impossible
According to research from Transport and Environment, a clean transport campaign group, from September 2022, HDVs are responsible for 28% of total CO2 emissions resulting from road transport in the EU, despite only comprising 2% of total vehicles. The domination of freight and heavy-duty transport in making up the overall emissions of the transport sector motivated a particular caveat within the revisions to incentivise the use of sustainable vehicles by fleet operators. Namely, from May 2023, hauliers using zero-emission trucks must be offered discounts of a minimum of 50% on distance-based road tolls.
On the measures pushing firms toward sustainability, Bernd Datler, managing director and CIO at ASFINAG, an Austrian tolling operator, says: "Tolling has come a long way and there is a lot of legacy there. So, the directive must balance what was already there with what the goal of the commission is.
"I think it is well-balanced in trying to harmonise [and push] forward more environmentally friendly logistics systems. It introduces new topics such as CO2 and congestion. So, it tries to introduce new levers to change the system, which will take some time, of course, and I think it is a fairly good compromise."
By introducing pricing based on emissions and distances travelled, the revisions are directing toll systems toward the 'polluter/user-pays' model. Commenting on whether or not the new incentives for zero-emission vehicles will contribute to developing such a system effectively, Nina Elter, CEO and founder of NewRoad Consulting, says, "I don't think that the discount will be the sole incentive to switch to zero-emission trucks but [it will] certainly be part of the picture.
"Others, such as purchase subsidies, and the difference in maintenance cost, will also be factors. It should also be mentioned that there are a number of other issues that need to be considered, such as the availability of zero-emission truck alternatives, charging infrastructure and the grid."
As it currently stands, freight occupies a much larger part of the emissions profile of road transport than any other vehicle type on European roads. Moving away from this, as Elter mentions, will require a diverse portfolio of incentives in accompaniment with adequate charging or fuelling infrastructure for green vehicles.
Building on the urgency of infrastructure of any kind to support wide-scale decarbonisation, James Nix, freight manager at Transport and Environment, adds: "Turning to charging, ambitious targets to provide truck re-charging will hopefully be agreed under the Alternative Fuels Infrastructure Regulation, which is currently being negotiated at EU level. Under the EU's driving and rest-time rules, truckers must stop for 45 minutes every 4.5 hours, and this gives the perfect opportunity to re-charge.
"Behind the provision of truck (and coach) charging is the need to reinforce the electricity grid. This is part of a wider societal investment as industry and households also go fossil-free, requiring a stronger and more responsive electricity grid – and this is where governments must direct real attention in the coming years. For trucks and coaches, the end result is a sequence of strategically-located charging areas along highways catering for both short-stop and overnight charging."
Deciding how exactly this infrastructure should look will be key to unlocking this debate. Datler provides context for why hurdles remain in place for the introduction of more clean energy fleets, even with the implementation of this new incentive. He says: "From an infrastructure point of view, it will be very hard to come up with two parallel charging infrastructures. For battery-driven vehicles, there is much going on already. So, the question is in long-distance transport. Using battery-powered [heavy] vehicles will be much, much harder. So, I personally doubt that this will be a viable option for long-haul transport.
"Of course, there are other solutions, such as having some sort of cabling running along the infrastructure, but this is also extremely expensive and it takes time to build. It is the same for hydrogen[-based infrastructure]."
The debate on how to best equip Europe's roads for more large-scale green transport options thus remains active. Peter Ummenhofer, founder and managing director of GO Consulting, comments that supportive infrastructure for zero-emission road vehicles should not be the only consideration, and that "we should also not forget that it's not only about the road network; we should consider, in order to fight climate change, the train network and general alternative transport modes".
He believes these modes "should be not neglected and should be even more in the focus in the future" if we are to see a meaningful reduction in emissions across the freight and transport sector.
Phantom of interoperability
Interoperability is something of a buzzword within the tolling world and one element to the revision represents a potential threat to interoperability: a caveat that member states can petition the European Commission and Parliament to be exempt from the switch to distance-based tolls if they can present a business case for why the latter has better revenue-raising potential.
Some voices from the tolling community are against this as it represents a potential barrier to developing a unified road charging system, but Datler comments that, "I think it is part of the European way that you still can talk about things. [In terms of] if it will make things easier, yeah, maybe not. But it's a part of our democratic way in the European Union and therefore, I think it fits our system."
Adding to this, Elter points out that this will not necessarily be a barrier to moving toward interoperability, saying, "I think there are still other factors that uniformity depends on and I think there are a number of nuances. When changing from the vignette to distance-based, the set-up also needs to be considered, for example what is the likely impact of the change in terms of transversion of traffic from the motorway into urban areas to use the shortest way? Those are important considerations that the individual solution needs to consider."
In this instance, then, the ability for member states to offer individual petitions allows for regional and national contexts to be considered, and for the nuances of a state's road network, potential traffic diversions and economic impact to be considered prior to the implementation of a new charging system. On the other hand, the shift toward a distance-based system is already broadly happening across Europe, meaning this addendum might not pose as much of a threat to interoperability as some believe.
Nix explains: "Charging trucks by time (e.g. per week/day) rather than distance does not apply the user/polluter pays principle in a proportionate way. The good news is that time-based vignettes are steadily being replaced by distance-based tolls, with Lithuania due to transition this year, Denmark in 2025 and the Netherlands in 2026/7.
"A combination of reasons is behind this shift: fairness (because tolls in a distance-based system are the same wherever the truck is registered), finance (ease-of-collection and a more consistent revenue stream) and environment (distance-based toll systems are easier to vary for vehicle performance). The new directive will support the shift to distance-based tolling but, to be clear, the move away from time-based road charging is already firmly in train."
The rest is politics
Political barriers represent one of the biggest challenges to the implementation of a distance-based RUC system across the EU bloc, with Elter pointing specifically to the issue of "political will and user acceptance". She adds that, "given the number of countries employing such a system for trucks by now, this is [still] much less of an issue than when talking about RUC for passenger vehicles," but that technology should not be an obstacle.
"From the technology perspectives, there are no hurdles remaining for a distance-based RUC system for trucks," Elter says, adding that this can be seen with current systems in operation. Furthermore, she says that "there are certainly opportunities to leverage from technology advancements [and that] in future there will be less of a need for additional hardware."
A key part of this issue is the political tension that exists between national governing bodies and those of the European Commission and Parliament when attempting to introduce any sort of mandate. This is especially relevant to the suggestion from the 2022 revision that income raised from distance-based tolls be exclusively allocated to new transport infrastructure.
Ummenhofer believes this is a political question. "There are different opinions, whether things should be decided on the European level in Brussels, or whether it should be more on the member state level," he says. "For me, it would be important that there is, either on a European level or on a national level, a framework in place ensuring that the money is spent not only on road infrastructure but transport infrastructure as a whole."
Overall, RUC across the EU continues to face barriers to wider interoperability, even with the revisions of this directive putting in motion systems to encourage a wider, distance-based tolling model.
Nix points to an increase in the use of systems that work across national borders as a positive sign. "Toll system interoperability is handled under different legislation, but good progress is being made here. For Germany and Austria, for example, just one OBU can be used in both member states. As microwave and satellite-based technology can now be placed in the same OBU, I think we'll see the growth of more multi-country OBUs in coming years."
Yet, as Elter points out, as it stands, "there are way more than 27 systems out there. While not all countries employ a road-pricing system, there are others that have several different ones." Thus, she expects that the "next couple of years will be an interesting one for road pricing, not only for trucks, but also for passenger vehicles". This is especially true in terms of these revisions, which expand the remit of the directive and have the potential to dramatically change how people and organisations are charged for use of Europe's roads.
This article was originally published in the February issue of CiTTi Magazine. Read the original article.
James Nix, Peter Ummenhofer, Nina Elter and Bernd Datler will all be speaking at the Road User Charging Conference 2023.